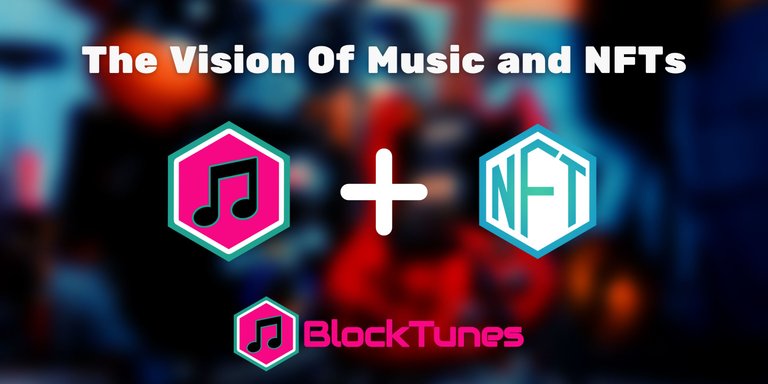 Hello everyone! I first just want to say thanks for taking a few minutes to read this post on my vision of NFTs in the music industry. I have been getting asked allot of questions on the 'why' behind music and NFTs and what is the proper use case. I explained allot about my vision of using NFTs in music in a comment on a post from @nickhavey that you can check out here.
https://peakd.com/hive-196233/@nickyhavey/not-fully-convinced-on-nfts-for-musicyet#@nickyhavey/re-thelogicaldude-r5rdcn
I just want to take this time to address the vision in a more official post manner that will be shared on the @blocktunes account as well. I am going to try and be as expansive with explanation as I can.
The Best Use of NFTs in the Music Industry
When most people think of NFTs these days, they think of all the punks, turtles, and apes that have been overtaking the space in what I call the 'beanie baby' craze. But the actual use case of NFTs goes way beyond having a rare pixelated jpeg.
Copyright Music Licensing
Copyright and publishing licensing in music has been apart of the industry since, well the industry has existed in one way or the other. In the music industry as we know it, the big record labels basically own the rights to the music and in most cases, the artists actually give up those rights, but the label also handles all of the business side of things which makes the artist and the music they are being forced to pump out are products or assets for the label.
Well with independent musicians, it can be difficult to navigate theses worlds on your own. Most people do not even know how to 'Poor man copyright' their work which is basically taking a recording of the master file and sealing it in an envelope and mailing it to yourself. As long as you do not open the envelope, you can use this in court as a copyright. Now you can also go through the official ways and pay a bunch of legal fees and such, but it's not necessary.
This is where NFTs can come into play...
On Blocktunes, artists will have access to a special collection that they can mint their work as the creator copyright and hold in their wallet as the proof of creative ownership. This license should not be sold or transferred unless you are giving up your creative rights to the work.
Royalty Free Licensing
This is where I thing we can make music NFTs shine! Royalty free licensed NFTs or as @NFTshowroom calls it, Limited Reproduction Rights, gives the owner the license to use the work in commercial works without having to pay additional royalties for future use. This is very useful for video content creators who want to purchase music they can use on their videos without getting copyright strike issues, or for sync licensing where people can use the work in film, TV, games, etc. DJ's can also use these licenses to build a playlist of music they will not have issues playing out.
These licenses should be sold for a decent amount because you are allowing people to use the music in their work. THIS DOES NOT GIVE UP CREATOR COPYRIGHT OR PUBLISHING RIGHTS!
Royalty free licenses do not give the owner the ability to resell the music as their work or as a publisher, only play use. We may offer a publishing rights license later on if we get requests for it. This would allow people to purchase the publishing rights meaning they would be the 'label or publisher'. They would be the ones putting it out for distribution, etc. You would need to come up with proper terms for this or sell this license for a large amount of money. If the artist was smart, they would then put that money into a DEFI yield farm and earn on the purchase passively no matter if the other party sells a single copy or not!
Private Rights
This is where you would sell a work as a rare piece of art. Think about if you ever went to a CD or if you are my age or an old school style DJ, you would be hitting vinyl shops. There would be limited editions available with some awesome artwork and such available. NFTs can give artists a way to mint private rights NFTs of say rare performance recordings, visualizer videos, music videos, etc, and sell it as a single or limited edition piece of art! Music is art, the traditional industry has killed that idea, but our goal and mission is to bring back the fine art value to music! These pieces can be purchased and resold on the BlockTunes NFT markets or whatever marketplace or blockchain you mint it on, but NOT used for commercial purposes.
The Opportunities Are Endless
I mean that. There can be all kind of different opportunities to use NFTs for ownership purposes aside from just having a collectible piece that you can trade up. We are intending to give actual use case to NFTs. Many people talk about this and there are allot of bigger artists starting their own NFT collections, but we are hoping to take it to the next level! If you have any other questions for this please feel free to comment below and let's have a discussion!
Until next time... make sure to come check us out on BlockTunes.net!

Be Cool, Be Real, and always Abide!
Get started playing Splinterlands today!
https://splinterlands.com?ref=thelogicaldude
Join Hive by going to:
https://signup.hive.io/
Want to shop using crypto, or even start your own online store? Check out the Hivelist Store
If you like what I am doing, please consider voting for my Hive Engine witness with your staked WORKERBEE!
https://he-voter.vercel.app/thelogicaldude
Or at
https://tribaldex.com/witnesses
https://thelogicaldude.com - The Dude's main site
https://hivelist.io - Classifieds, NFTs, DEFI Pool, Online Retail
https://HiveHustlers.com - Community for Entrepreneurs and All Around Hustlers
https://coin-logic.com - Live crypto market data, news, and research
https://blocktunes.net - Music NFTs, DAO, Downloads, and more
https://groovelogic.audio - DJ/Producer/Sound Engineer music and services
https://weedcash.org - The Highest Form of Social Media
View my channel on 3speak.tv! Video platfrom for a free speech society!
https://3speak.tv/user/thelogicaldude
But if you must... here is the YouTube channel link:
https://www.youtube.com/channel/UCtGApfTp4ZzLHksDdImJ9JA
Pure Logic Podcast can be found on 3speak.tv and YouTube as well as the following podcasting platforms:
Apple Podcasts
Spotify
Anchor.fm
RadioPublic
Breaker
Google Podcasts