A Stock reaction gif about the daily cycle of sitting in front of your laptops! I Accept Commissions for Variations of this Piece! (Check this post for the male version.)
---
"Busy at Home" (Female Ver.)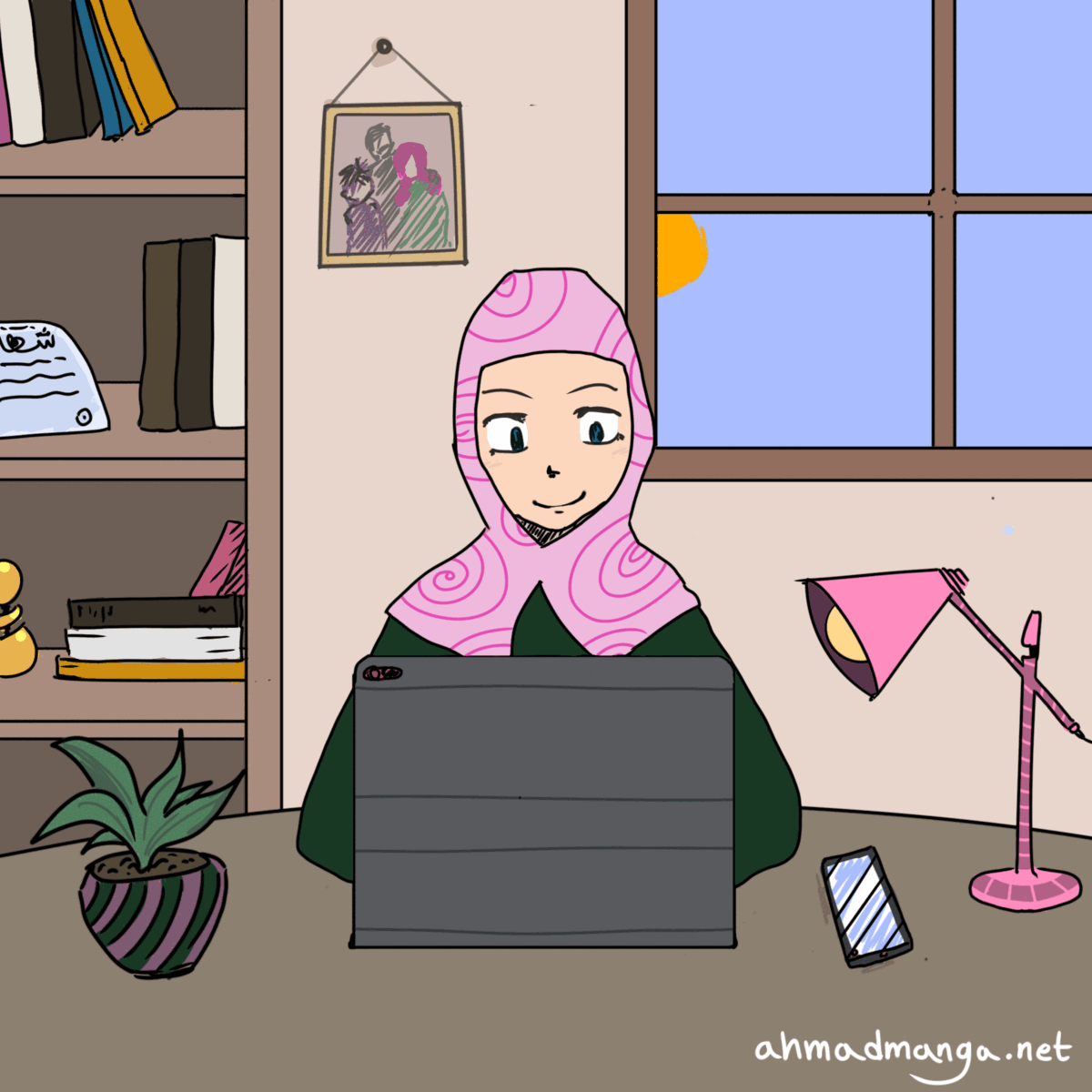 ---
---
Do you spend hours upon hours in front of your PC/laptop? I do, and so do a lot of people, because of work, gaming, or just as an escape from their empty lives instead of doing something about it.
This animated gif aims to capture that relatable part of our life. This image features a smiling woman who wears a Pink Hijab and has a tiny plant on her table.
This is the second version I made of this Gif. Check the previous one featuring a Bored Guy via this link. (Contains info about the inspiration for the idea.) Would love so see your comparisons!!

(This version is late, I wanted to release it earlier but ChatGPT was too distracting!)
Image Info
Type: Gif
Frames: 9
Size: 1200x1200px
Original Frames:

Type: PNG
Size: 2048x2048px
Download Links
Bonus Downloads:
Frames
Bonus Frame: Blink (Night Ver.)
---
Terms of use:
You're free to these images and make derivatives out of the, as long as you:
Give Attribution: Credit @ahmadmanga.
Share-Alike: Your derivative work must also fall under a compatible Creative Commons license.
Special Permissions for Hive Network:

Credit isn't needed in comments or microblogging. (like DBuzz.)
A beneficiary (5%) to @ahmadmanga can motivate me to make more art.
Want Custom Version for your Posts?
I Can Create One For You. Give your suggestions in the comments below. If it's a simple variation, I can do it for Free. I take $HIVE payments for more complex edits.
~ (A Hive Exclusive Article)~
---
---
Tags: #smiling #day #night #laptop #home #wallframe #busy #woman #blogging #neet #cycle #similinggirl #similingwoman #daily #blogger
---
You May Also Like: