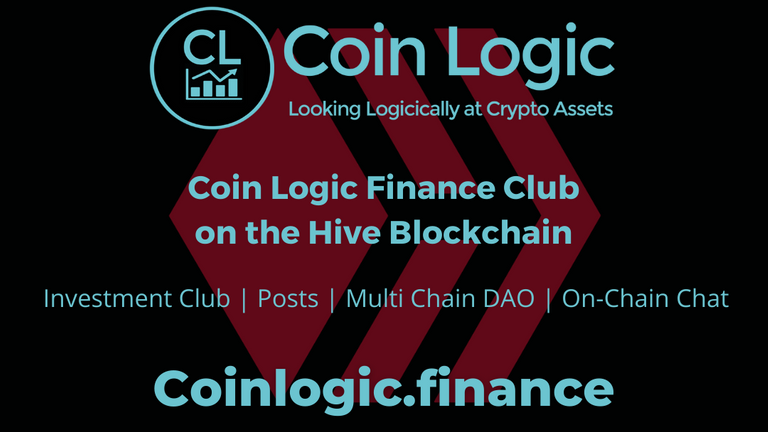 Hello everyone and let me welcome you to the introduction post for the Coin Logic Finance Club. We are an investing community or 'investment club' as we have to call ourselves for regulatory purposes. Our community is built on the Hive blockchain so those wanting to get involved will have to join Hive to participate! Here is the direct Peakd.com link: https://peakd.com/c/hive-119769/created
We will not be starting a Discord or Telegram server for this club. Not that we are trying to shut people out... No No... in fact we are trying to do the opposite... We are trying to bring people to the Hive blockchain! Web 3.0 is the future, so we need to stop being half in and half out. We are using blockchain for all of it!
The Coin Logic Finance Club, https://coinlogic.finance, will be the hub for our multi blockchain DAO, or Decentralized Autonomous Organization. We are starting our DAOs on Binance Smart Chain, Polygon, and of course, Hive! Members can participate in any DAO they choose, or all of them for that matter!
Each DAO will have it's own token structure. In the case of the BSC and Polygon DAOs, those will have 2 tokens... One is a governance token giving a vote in the DAO operation. The other token is an investment token or what is called an LP token in the DAO. This token will have a starting price but will fluctuate over time according to the TVL, or total value locked in the DAO. Another way to say TVL is Assets Under Management or AUM.
These DEFI and token backed DAOs on BSC and Polygon are built using the XDAO platform whom we are partnered with for this venture. They have built an amazing platform with a full dashboard and the ability to invest directly from the DAO page.
So let's get into the DAO structure a bit and how we are going to get them started.
Coin Logic bDAO on Binance Smart Chain
Click here to visit the DAO on BSC
Investment Tokens go on sale December 1!
Our DAO on Binance Smart Chain will primarily be used as a yield farming and liquidity token mining DAO using primarily CubFinance built by the @leofinance team here on Hive. You can visit their amazing front end at https://leofinance.io.
We will also be using Venus.io protocol to build a reserve and credit fund for the DAO. Venus is the BSC equivelant to Compound.finance on Ethereum.
We will be using this platform for the majority of the DAO investment due to the yield it provides and the stable investments are available.
Kingdoms in CubFinance are autocompounding liquidity mining farms. These are advanced smart contracts in which we provide liquidity to the BNB/BUSD pool on PancakeSwap and then lock it in the CUB Kingdom and what it does is it will farm the CAKE token on PCS, then automatically sell that token for the BNB/BUSD LP token and automatically compound it into your farm. So not only are we producing CUB token yield, but also compounding more of the base asset!
The yields will be used to pay any expenses incurred by the DAO as well as in the future, be used to pay out dividends to investors. For the first year or so, we would like to see it be a growth DAO, meaning that the rewards will be used to reinvest and build the DAO.
We will split it into 3 levels of risk and the distribution will be an equal percentage split across the 3 risk levels.
High Risk
CubFinance
The high risk pool will be the CUB/BUSD Farm. It has the highest yield of any of the farms. This is a Pancakeswap V2 liquidity pool that is locked up in the farm to mine the CUB token. We will also be adding to the SPS/BNB Kingdom. This is the Splinterlands game governance token paired to Binance Coin liquidity pool also from PancakeSwap.
Venus Protocol
The high risk investment in Venus.io protocol will be in the CAKE token. This is PancakeSwap's native token. On Venus, it produces a high APR and can be used as collateral for credit.
Medium Risk
CubFinance
The medium risk pool will be the BNB/BUSD Kingdom and the DOT/BNB Kingdom.
Venus Protocol
The medium risk investment in Venus will be in BNB tokens and others like DOT and ADA.
Low Risk
CubFinance
Low risk investment in CubFinance will be in the BTC/BNB Kingdom
Venus Protocol
Low risk investment in Venus will be in BTC, ETH, and stablecoins like BUSD and USDC.
Coin Logic pDAO on Polygon
Click here to visit the Coin Logic pDAO on Polygon
For the Polygon DAO, we are are going to be using primarily AutoFarm and CubFinance's future Polygon platform, POLYCUB, which is not yet finished. The polygon DAO will also be investing primarily into different investments than the BSC DAO.
The pDAO on Polygon will be a bit more focused on investments in things like NFTs as well as we are looking to invest heavily in Bloktopia, which is a metaverse platfrom being built on Polygon. This will allow us as a club to invest in digital real estate, similar to Decentraland and The Sandbox on Ethereum. The tokens farmed by the primary DEFI investments in POLYCUB and AutoFarm will be used for these investments.
Polygon is a popular blockchain for NFTs due to the extremely low gas fees so we will be looking to invest into NFTs on the Polygon chain.
This will give a bit more variety to the club.
Coin Logic DAO on Hive
This DAO is plan is still in the works. We will be looking to create a Hive Engine token for our DAO and we are deciding on how best to manage this one. May start this DAO investment with an NFT sale, not sure yet how that will be handled...
Our goal is to eventually raise enough funds to create our own Hive Engine outpost, but this awesome community on Peakd can fill the void for now!
We are looking to invest into the major income tokens such as INDEX, BRO, and COM on the Hive Engine platform as well as into Splinterlands cards to rent out for passive income.
We will also look to grow the @coinlogic.online account through delegation and we are finding the best way to reward delegators and investors.
In Conclusion
We are wanting to grow an amazing community of investors that not only want to earn together, but also to learn together! It's not just about making money, but learning how all this crazy stuff works. We all have different insights and experience and we can all stand to learn a thing or two from each other!
We will be posting trade setups in the Chat area as well as using that as a place to answer questions and have any discussions!
We can all help each other in one way or the other. We have been learning everything about regulations, and as long as we play it small and the right way, as an "investment club" we can get around allot of the US nonsense.
The best way for that is the transparent nature of the investments as they will all be trackable through the XDAO dashboards or through the wallet on Hive. The other best way is to decentralize the governance of the DAOs. The more decentralized the decision making, the less they can mess with us!
So come and join the Coin Logic Finance Club today and let's make money to build the future together!