Thank you to everyone on the Hive Platform that has provided me support over the past nine months. Please continue to share with me so I can learn even more along the way.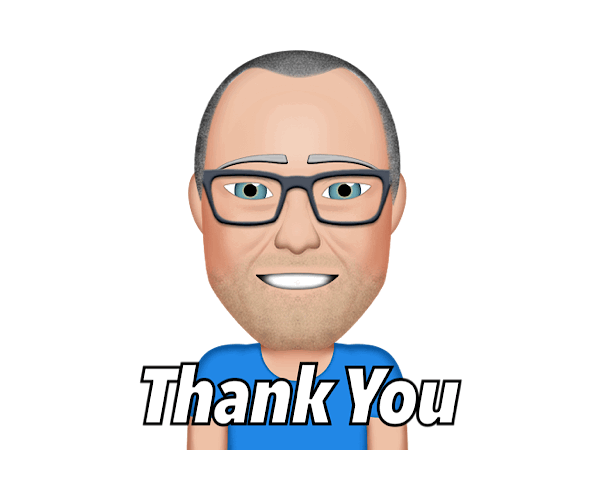 Nine Months on Hive Blockchain
Today marks my nine month anniversary on the Hive Blockchain. I am finding the more I learn on and about the Hive Blockchain the more there is still to learn. I am extremely thankful to the communities that have provided me the training and support these first nine months that I have been on this platform.
The Market will Go Up and Down
In the nine months that I have been on Hive, the market has performed like a roller coaster. When I came to hive, the price was a around $0.40 USD. It spiked over $3.10 and now it is around $0.90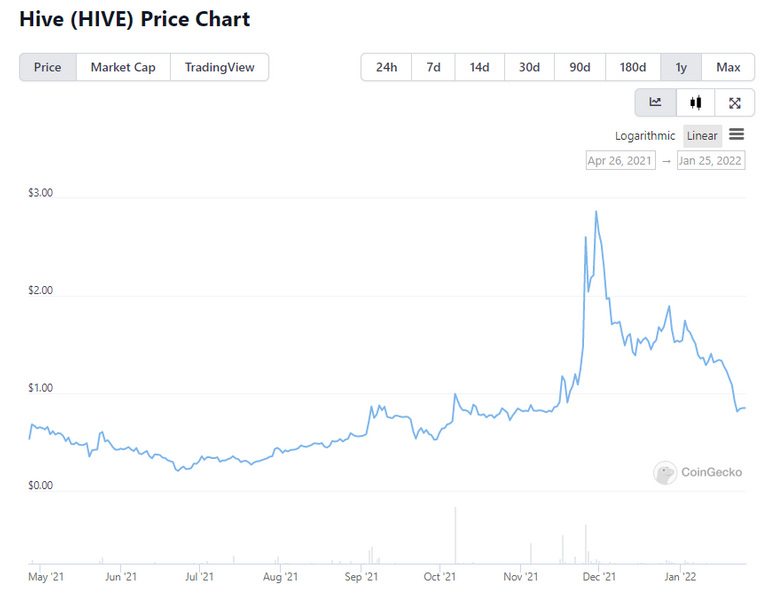 Accumulation is Key
The one thing that everyone has shared with me is that if you are in it for the long term, ignore the price fluctuations and accumulate Hive and associated Hive Engine tokens. I have never been much on following the price of crypto currencies. Since crypto is so new and not yet part of mainstream, I totally agree that you should accumulate as much as you can.
I have been following this advise during the last nine months. There are times, I get excited when the price pumps but then I remember that as quickly as it went up, it can come down.
Use Case, Community and Development
As @jongolson has stated, focus on the crypto currencies and tokens that offer you a use case, a community to participate in and a platform that has great project development. The Hive Platform has all three of these for all users to take advantage of. Almost all of the other Crypto platforms do not offer what Hive offers.
There are so many projects with excellent use cases and communities on the hive platform that if you do not get involved in some of them it is not because they are not available. It is very easy to get lost in all of the information and projects that are readily available at your finger tips and more being announced every week.
Blockchain-Gaming
I am really starting to get addicted to all the blockchain games that are on the Hive Blockchain. I am playing Splinterlands and Rising Star on a daily basis. There are days that I lose track of time playing the games that I forget to do other things. The games are ever being updated so you are never bored. I am also watching others stream their playing. I have so much to learn about how to play better but I know with time that will happen.
Nine Months of Progress
Over the past nine months engaging on the Hive platform and following the advise that I have received have gotten me this far. @Hivebuzz provides information about your account so you can see how you are progressing. I am now ranked 7,644 on Hive Buzz with 652 posts. I became a Blue Minnow along the way, next stop Dolphin. Yesterday, I received my badge for being Upvoted 30,000 times. I have received 34 Weekly Author badges and 6 Monthly Author badges during these past 9 months.
If I continue, doing what I am doing, I wonder where I will be at One or Two Years or Five or even 10 Years? Oh, and even though I do not watch the price, I know for a fact that prices go up over the longer term so in 10 years the price of Hive will probably be way up there.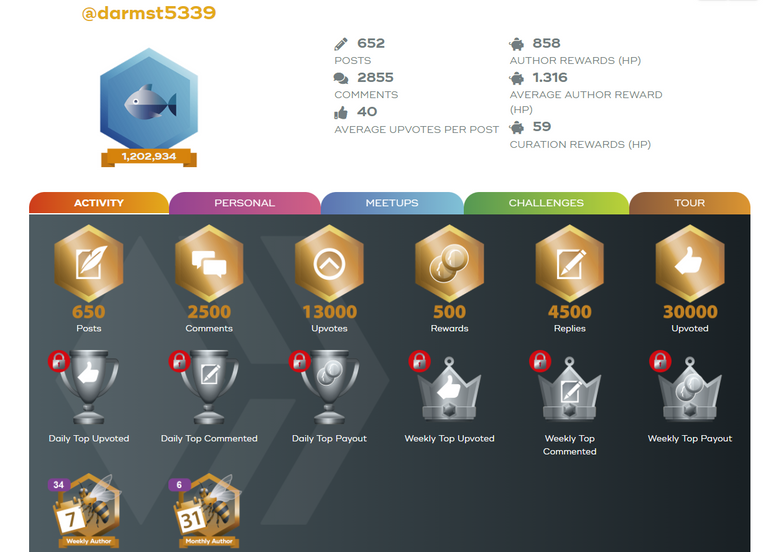 EVER FORWARD!!!