Hello! Football lovers...
Today I would like to share you about my activities in Rabona
football(blockchain game).
If you play this game how about
your team in this season?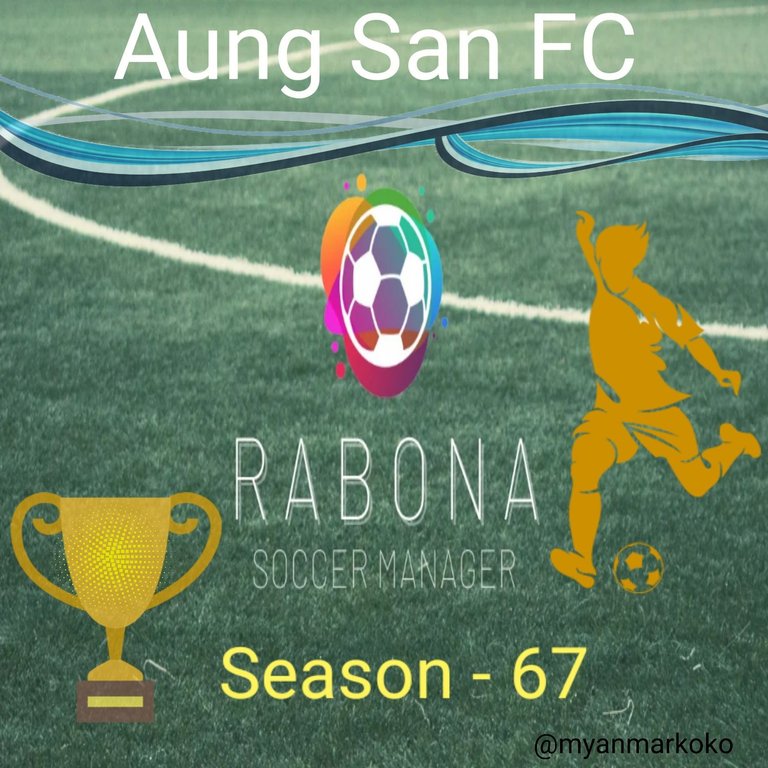 This is Season - 67. Completed 25
matches and my team Aung San FC
standing at 2nd place with 60 pts
League -2 ID 633. The first place
pts is 65. So My team need to
attention comming matches to be
Champion. My team won - 19
lose - 3 and draw - 3. I will focus my
team to be Champion in this
Season.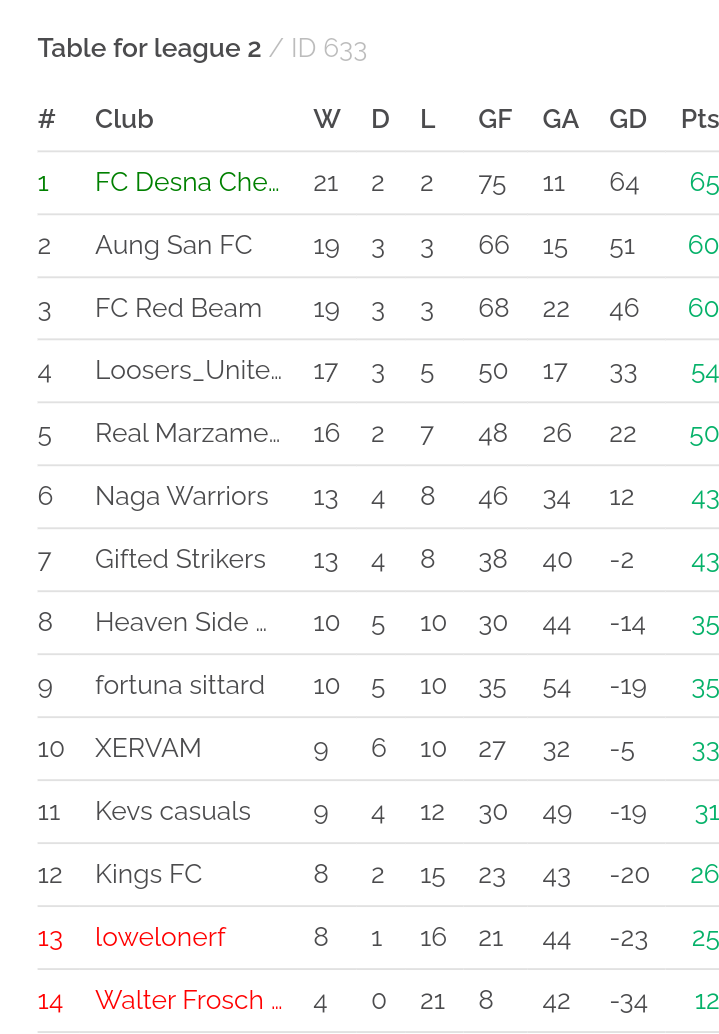 And I would like to share you about
matchs reviews. But there have
4 matchs in a day and I post about
this game activites two day a time.
So I can not review all matchs. That
is why I choose 2 matchs
(Interesting matchs).
Match Review with Kings FC
(AS 5-0 King) Season - 67
This is 22nd match of Season-67.
In this match Aung San FC
competed in a 4-2-3-1 formation.
And Kings FC competed in a
4-3-3 formation. King FC is
standing at 12 place and struggling
in the relegation zone. In the first
half of 32 40 and 46 minute Aung San get 3 goal from Josef
Mala(32) Bryan Ramos(40) and
Edgar Antunes(46). The first half
result is 3-0. In the second half of
57 and 71 minute Aung San also
get 2 goal from Stephen Bello(57)
and Josef Mala(71). So Aung San
FC won with the result of 5-0.
Aung San FC still have a golden
chance to be Champion of
League-2
Match Review with lowelonerf (low 0-0 AS ) Season - 67
This is 16th match of this Season.
In this matchs Aung San FC won
auto. Because there have no 11
players at lowelonerf. For the rule of Rabona if the team has no
11 players the opponent team won
automatically.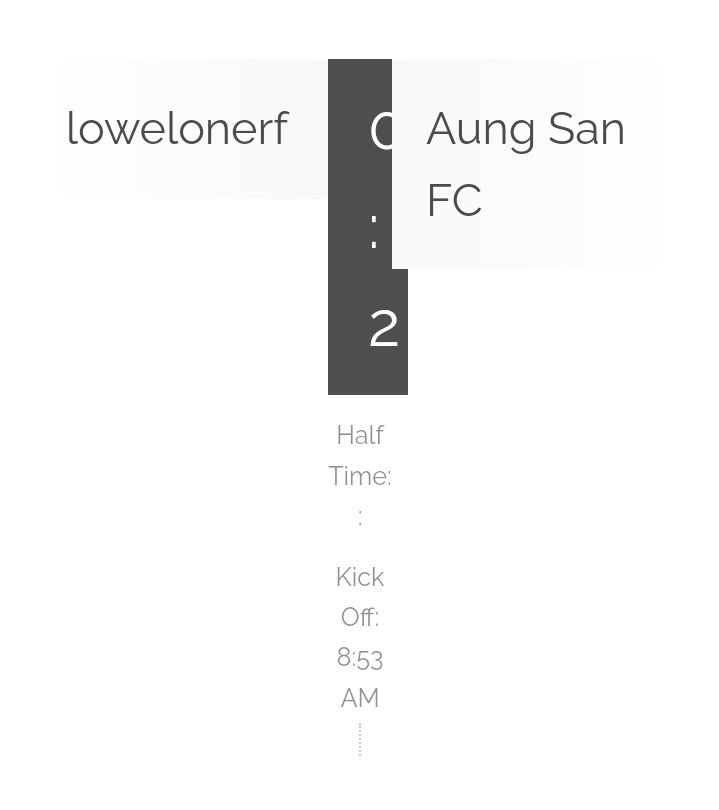 Preparation for the next Season
To be prapared is half the victory
Preparation is important. There
have player contrect at the end of
each season. If the player contract
is expired the player will leave from
the club. That is why losing a good
player will make your team to be
fail. So I checked my players who
are going to expire at the end of
season.
Name: Bryan Ramos
Age: 32.8 years old
Nationality: Venezuela
Position: Attacker
Salary: 27,172 RBN (per match)
For sale: No
Frozen (NFT): No
Aung San FC
League: 2 / ID: 633
In the club since: 2021-12-27, 8:14 PM
Contract duration: 1 season(s)
He was a good Attacker for my
team. Now he is getting old. That is
why I did not renew contract. But
I miss him. Goo luck! Bryan.
There is others 2 players are going
to expire their contract. But they are
also getting old and I will not renew
contract. And I bought some
players instead of them. I would
like to introduce with one of my
favourite player who is signed.
Name: Sonya Vasilev
Age: 22 years old
Nationality: Russia
Position: Defender
UID: P-Z1W2H63JK4W
Salary: 30,540 RBN (per match)
Contract duration: 4
He is one of my favourite player
with 81 OS. He is young and full
skill with defending 100. And he
has formation 99% that my lineup.
Upgrading Stadium Capacity level 10 to 11
Now I am upgrading Stadium
Capacity level 10 to 11. It take
12,000,000 RBN cost and take long
15 days. If it finished upgrading
my capacity increase 10000 seats
to 15000 seats. There have 2 days
left to finish.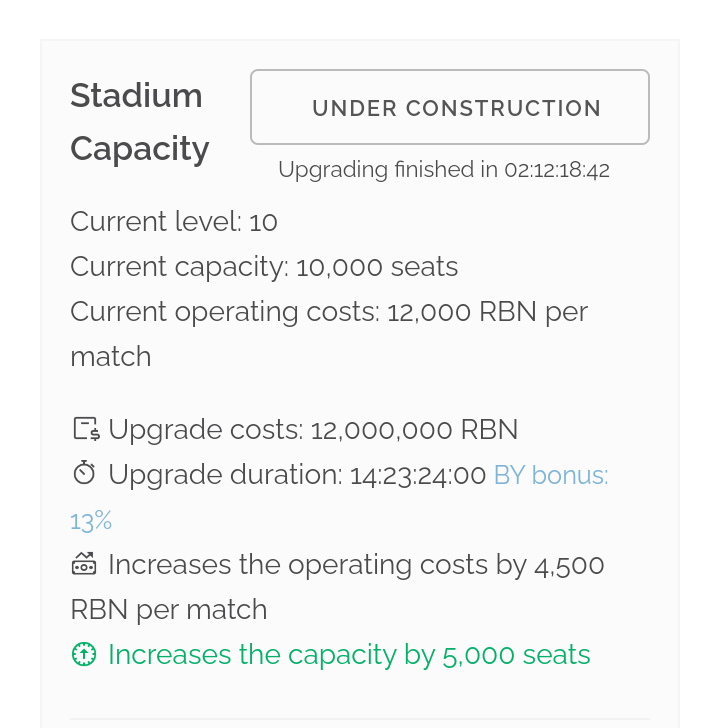 Fans
Fans is important for your income.
There are two types of income: Home and Away income. Home
income include tickets selling.
Away not include tickets selling but
you still get income by Shirt and
Scarf selling. So Fans is important
for your income. Fans become
more and more at your team is
High place. My team fans are
improving day by day.
Fans:
Regional: 439,040
National: 4,096,451
International: 43,849,652
Total: 48,385,143
Aung San has 29 players included
Freezed 11 players #Nft
Total salary is 490,257 RBN. I will
do my best in this Season - 67.
Do you know this Football game?
This is a Blockchain Game base on
Hive Platform. You can play this
game with your hive account.
Build your team and earn reward
Now there have a lot changing in this game and you will get daily Hive Reward
To know more about Reward read here
If you new and want to play this game please Click Here to know more about this game.
---
Connect to me>>> Touch Image

Post creator : @myanmarkoko
From : Myanmar
Name: KoKoMoeHein
27.02. 22

---