In this post I share about some really big updates for the We Are Alive Tribe, including a soft retirement of IAAC, a new token in the daily staking rewards, more decimals for ALIVE and ALIVEM, and more, enjoy!
---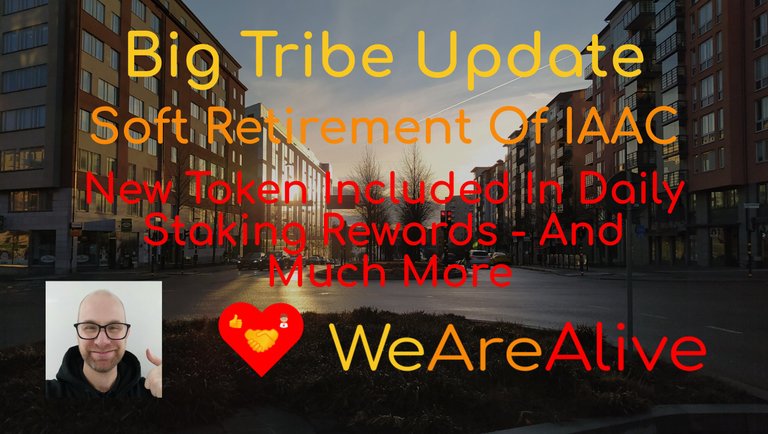 Made in Desygner, photo by Erik Gustafsson
Hi there and welcome to my blog, my name is Erik Gustafsson and I go by the handle @flaxz.
Big Tribe Update - Soft Retirement Of IAAC - New Token Included In Daily Staking Rewards - Plus Much More
So I have some really big updates to share for the We Are Alive Tribe, some might even be a bit shocking to some people, but it is all done to move the tribe forward and build for the future.
Soft Retirement Of IAAC
Let's start with the big bomb, the soft retirement of the #IAmAliveChallenge, and first let me give you the reasons.
And to begin with my personal reasons, there is few days where I am able to go to bed before 2 AM, and quite a few where it is even longer, and it is not sustainable for my physical and mental health to continue like that.
The Alive Engagement Contest takes a lot of time and it does not really scale well when the tribe is growing.
For my own journey with IAAC it has gone over 2 years since I started, and tomorrow it will be my day 777, a good number for me to stop and do #AliveAndThriving instead.
#AliveAndThriving is where the tribe is growing a lot, and it is the main future of the tribe, the #IAmAliveChallenge focus on surviving under bad circumstances while #AliveAndThriving focus on the journey to build a better future and sharing the journey to thrive in life.
The #IAmAliveChallenge will not go away, anyone that wants to continue doing it is welcome to do that, and the @iamalivechalleng account will continue to curate IAAC posts, and anyone who wants to join it will get the IAAC Badge.
What will go away is the Alive Engagement Contest, and with it the Daily Spotlight for IAAC, this is what takes too much time, and something has to change.
The last day for the Alive Engagement Contest will be on Friday, May 27, 2022.
Alive Chat Contest
This does not mean we will stop delegating Hive Power and Alive Power on a daily basis, we will focus on Alive Chat instead, we have already started a small daily contest there, and starting on Saturday, May 28, 2022, we will start to delegate Hive Power and Alive Power as prizes in Alive Chat.
Alive Chat is also mainly focused on #AliveAndThriving and we will double down on making it even better than before, adjusting and refining the daily topics to really help everyone thrive in their lives.
We will make some changes to the prize structure though, and we will have 4 winners per day.
Winner 1 and 2: Each winner gets a 4 week delegation of 50 Hive Power from @flaxz
Winner 3 and 4: Each winner gets a 4 week 500 Alive Power delegation from @iamalivechalleng
In addition to this we will also move over the tipping tokens we have on @iamalivechalleng to @alive.chat, plus the @iamalivechalleng account will follow the curation trail of @alive.chat with the Voting Power that it is not using to upvote IAAC posts, and that will include upvoting comments as well.
This way I am personally able to save a lot of time, the tribe is able to put the main focus on building for the future with #AliveAndThriving, while we still have legacy support for the #IAmAliveChallenge to anyone wanting to continue or even start with it.
New Token In Daily Staking Rewards
As you all know we are paying out a total of 0.43 BRO and 5 PGM tokens to ALIVE stakeholders each day, and I have also said that I want to pay out another token as well.
We are doing these payouts using the @youarealive account as it has a lot of Hive Power which we need since doing these payouts and running the tipping bot takes a lot of Resource Credits.
We currently have around 2700 ALIVE stakeholders which means paying out 2 tokens in staking rewards to all of them means 5400 transactions per day.
I am working on a new payout script that will be more efficient and a lot faster, but due to time constraints I have not yet been able to finish it, but it is coming after all the changes above has been made.
That being said, paying out staking rewards to everyone regardless of how low their stake is might not be the best solution for the long term, so starting today, Wednesday, May 25, 2022, we are setting a cap on this.
To be included for the daily staking rewards you now need to have 1 ALIVE token staked or more.
This means that we get more motivated people included in these daily rewards, they either have to stake ALIVE themselves or earn at least 10 tips from our tipping bot to be included for the daily staking rewards.
In addition to that it also means that we lower the number of accounts we have to send staking rewards to as we currently have 954 accounts with 1 ALIVE or more staked (not counting excluded official tribe accounts).
This way we can already add a third token in our daily payouts, so from today, Wednesday, May 25, 2022, we are also paying out a total of 5 LOLZ tokens to ALIVE stakeholders.
5 LOLZ per day is the amount for now, and we currently have 570 LOLZ in the @aliveprojects account, and we are earning more from LOLZ Defi, plus also buying, and once we reach above 2000 LOLZ we will start to increase the daily amount of LOLZ we pay to ALIVE stakeholders.
LOLZ is a token that is owned and run by @captaincryptic, who also took part in IAAC a while back, and if you have 512 LOLZ or more in your wallet you will earn daily dividends from LOLZ Defi, plus you can delegate tokens to the LOLZ Defi accounts to earn daily LOLZ tokens in return, and that includes delegating ALIVE tokens to @lolz.alive, and when tipping LOLZ to a post with the #alive tag you could get your comment upvoted with that account and earn more ALIVE for using the LOLZ tipping bot.
This is all very good reasons in my opinion to include LOLZ in the daily payouts to ALIVE stakeholders, and enjoy the rewards.
More Decimals For ALIVE And ALIVEM
I have just increased the decimals for ALIVE and for ALIVEM.
ALIVE now has 4 decimals instead of 3, this change makes it possible to do Market Orders on Tribaldex rather than just Limit Orders, and it improves trading of our ALIVE token.
ALIVEM, our miner token, now has 1 decimal after not having any decimals before, this makes buying ALIVEM more attainable for smaller accounts as they do not have to buy a whole miner token each time, and you also earn mining rewards on part of a miner as well, but it's reduced in accordance to the share of a miner that you have staked.
This does not in any way change the price that we are selling ALIVEM for, only that you can now buy 0.1 ALIVEM as a minimum rather than 1 ALIVEM.
More Updates
We have started to give a very small upvote to all posts published in the tribe that are on topic using the @wearealive account, it is to make sure that all posts on topic gets a reward in ALIVE, it is not meant for anyone to follow the curation trail as that would just give equal votes to everyone regardless of content quality.
After implementing these changes above I will also update all relevant tribe guides and community guidelines for the tribe.
The tribe graphics will also be updated to focus on #AliveAndThriving and #LarryIsAlive rather than IAAC and Luke as it is now.
After that we will launch the Larry Is Alive ebook.
And then the You Are Alive ebook.
That is all for now, and I hope you will like it and the direction that the We Are Alive Tribe is taking.
Thank You!
Thank you very much for reading this post and I hope you liked it, leave your thoughts in the coments below, and ...
Stay Awesome!
Sincerely,
Erik Gustafsson
This is my own personal opinion, do your own research before investing, and seek legal counsel if uncertain.
---
---