In this post I share how we are strengthening the tokenomics of our ALIVE token by changing the decreasing of the Rewards Pool from 1% per year to 5% per year, plus we have also updated the tags in Scotbot, enjoy!
---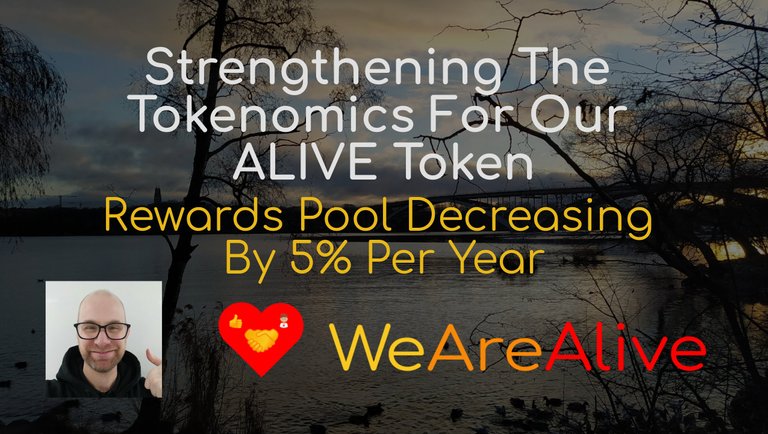 Made in Desygner, photo by Erik Gustafsson
Hi there and welcome to my blog, my name is Erik Gustafsson and I go by the handle @flaxz.
Strengthening The Tokenomics For Our ALIVE Token - Rewards Pool Decreasing By 5% Per Year
Update April 17, 2022: Scotbot has now automatically reduced the rewards pool for posts and comments with 5%, and we have manually reduced the rewards pool for the miners with 5%, this years yearly reduction has now been fully implemented and it's in sync.
When we launched our ALIVE token on April 16, 2021, we also set a decrease of the Rewards Pool to 1% per year from the previous year, and it can be seen in our White Paper here, White Paper 2.0 ALIVE And ALIVEM.
We did not really make any substantial research into what this should be, but we wanted to have a decrease over time, and now a year later we have a lot more info on how this really works in practice, and why a higher decrease would be a lot better for our ALIVE token over time.
This does not mean to go overboard and have some crazy 30% decrease per year or something, but a 5% decrease will be something that works very well over time, and is illustrated in the chart below, we currently issue 1998.720 ALIVE tokens per day.


Screenshot from Google Drive
As you can see by the comparison, the 1% decrease per year does not make enough of a substantial decrease of daily issued tokens to make a good impact on our tokenomics over time.
The 5% chart on the other hand shows a both substantial decrease over time, while not going out of hand by decreasing too much, nor too fast.
The setting for this decrease is in Scotbot for Posting Rewards, and it has now been updated for a 5% decrease per year, some speed was needed as well since it will switch automatically when we pass 1 year since it started.
For the miners, ALIVEM, we are using a smart contract, and that does not have any automatic decrease, so it will be switched manually just after the automatic switch in Scotbot has taken place, to keep the full Rewards Pool in sync.
Updated Tags
When we made this change in Scotbot we also switched out the now old #LukeIsAlive tag for the #LarryIsAlive tag, plus we added the #WeAreAlive tag as well, we have some plans for it further ahead, and it's the name of the tribe so it makes sense to add it.
What's Next?
After the switch has been made for the full Rewards Pool, we would also like to add ways to encourage token burning, not on the supply side but on the demand side, and some ideas for this is in the works and will be added soon (incentivising post promotion in our tribe interface), but other ideas can take longer to implement.
The more tokens are burned, the less tokens are in circulation, and that improves our tokenomics as well.
Thank You!
Thank you very much for reading this post and I hope you liked it, leave your thoughts in the coments below, and ...
Stay Awesome!
Sincerely,
Erik Gustafsson
This is my own personal opinion, do your own research before investing, and seek legal counsel if uncertain.
---
---