It's been two days since Bitcoin closed the monthly candle, and we are technically still in bear territory.
At the time of writing, Bitcoin is trading around 34850, and even though short term RSI is favourable for a push higher, let's dive into details on the higher timeframes.
In the last 1 month, Bitcoin has been subjected to high levels of fakeouts and has been unfavourable especially for those who trade based just on patterns or supports/resistances.
This is the reason it's better to trade with less position sizes and have loose stops to avoid getting stopped out while being in a favourable trade.
Let's have a look at the Bitcoin daily chart: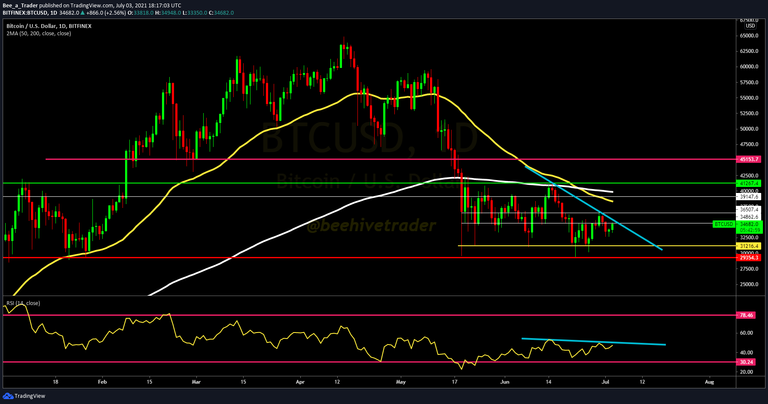 Bearish points to observe:
There is a bearish price divergence with the RSI
Monthly candle closed bearish
Death cross (Moving average), some days back
Still trading below the midpoint of the range, and is still stuck in a range.
Bullish points to observe:
Higher lows and higher highs on the pattern, indicating some sort of trend change.
Last weekly candle was bullish (Hammer formation, reversal pattern)
Takeaways:
If you are short: Set a stoploss above the last swing high on the daily.
If you are looking to short, I'd personally suggest opening positions once we take out the stops around the moving average regions. A lot of people shorted, and there is untapped liquidity around that area.
If you are long: Set a stoploss below the weekly swing low, (As it's difficult to still understand where the market is heading to.
Overall, once we break out of this range we are stuck in, we will form a new trend.
---
Ethereum Daily chart: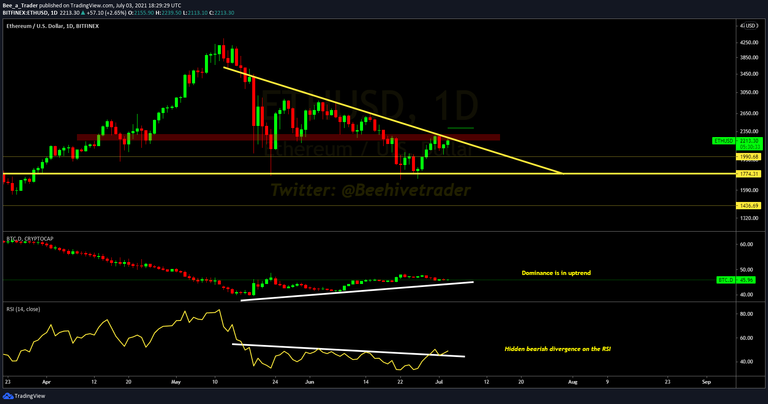 Bearish points:
Looks like we are forming a meme triangle (We formed during the bear market, on Bitcoin around 2018. That triangle broke down below sub $6k)
Bitcoin dominance is still bullish, so money is flowing out of altcoins to Bitcoin.
Resistance till 2300-2350 zone.
Bullish points:
RSI broke out, but it can still give a lot of false signals.
Overall, short on ETH is looking more favourable, unless we take out the resistance above, post which, we should turn bullish.
Disclaimer: None of this is financial advice, always DYOR before investing.

---
If you liked the article, please this with your friends and circles, and also spare an upvote for me, so that I get motivated to keep sharing market insights and analysis :)
---
If you want to support my work, please consider using the referral links to sign up on any of the exchanges below using my affiliate link: (You will also get benefit and save on fees)
FTX: https://ftx.com/#a=beehivetrader (Get Zero maker fees on staking some FTT)
Binance: https://www.binance.com/en/register?ref=NL4008SG
Okex: https://www.okex.com/join/2172681
Kucoin: https://www.kucoin.com/ucenter/signup?rcode=E3t8Ao&lang=en_US
Bittrex: https://bittrex.com/Account/Register?referralCode=XWY-LBA-B5F
Pionex: https://www.pionex.com/en-US/sign?r=eOxX26Bq
Poloniex: https://poloniex.com/signup?c=M5NDJH48
Delta Exchange: https://www.delta.exchange/referral?code=CVIVPG)

Posted Using LeoFinance Beta