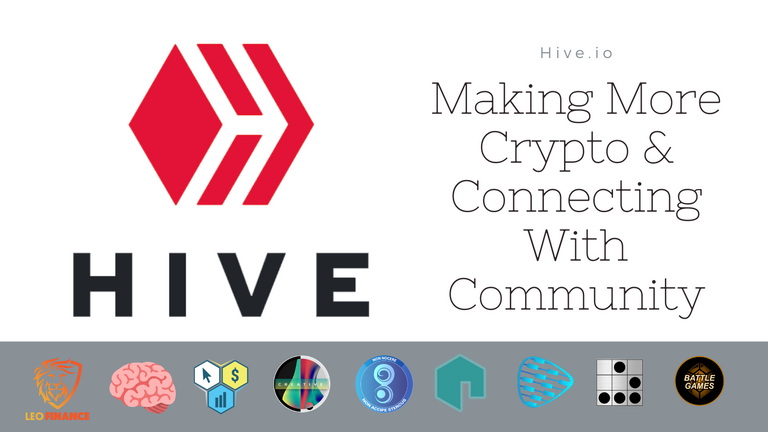 I've been doing this for a long time now and figured an article about how to maximize your earnings here on hive was in order. This article will group together some of the most popular niches and how to maximize your earnings and exposure on Hive and tribes/tokens within Hive.
I've done my best to include all projects that I know of but if there are others please let me know in the comments so I can review and update this post.

Many years ago there was once a single article/blog platform called HIVE. This Proof of Brain concept was unique from any other blockchain offering rewards for value in posting articles as well as posting comments of value.
The one issue with this however was that everything got lump summed into a single platform and it was hard to make heads or tails of what was going on. Some articles you simply wouldn't have interest in while others you did where hard to find.
And thus TRIBES and Tokens of HIVE were born. This unique ability allowed for new platforms to spring up offering niche categories such as Finance, Onboarding new users, DIY projects, Music, TV & Movies and so much more!
Now you could go to each site that offers topics that are interest to you and connect with a like minded community providing valuable comments and articles yourself. In exchange earning some of those tribes tokens as well as some HIVE on top of it.
Below I split up categories I know of or the community has helped me become aware of to help you find your way around and earn tokens in those communities that are of interest to you.

Format
Site Name+Link - Tag - Some Notes
General ALL
ProofofBrain - proofofbrain - Interesting project that takes the proof of brain blockchain to a new level. Think of it as getting in early on HIVE. Also includes a reduction in rewards every 4 years.
Palnet - palnet - Reduced rewards since the it's moved to a prediction platform but you can still post to their front end with this tag and earn some rewards.
Aeneas - ash - General front end with rewards
Archon - archon - General front end with rewards
NeoxianCity - Neoxian - General front end with a high token supply
BroadHive - broadhive - I believe this is a general platform it's one of the newer ones and I believe they will be implementing POS (Proof Of Stake) on their token.
Bilpcoin - bpc - General with front end
Finances
LeoFinance - leofinance - High token value and my primary besides Hive. Launched a DeFi project called CubDeFi.com
Gaming
Battle - No site but can be used to get Battle tokens. I believe they drop random NFTs to those using the tag and holding Battle tokens on hive.
SPT - Play Splinterlands This would be the tag to use for playing articles about the game.
Business
Click Track Profit - CTP - Primary focus is on business building be it books, affiliate, finances etc. Great community of people.
Sports
SportsTalkSocial
-
sports
- If you're into sports or anything athletic than this is the community for you!
Weed
WeedCashNetwork
-
weed
- So yeah everything weed 420 lol
Do It Yourself (DIY)
build-it
- No front end anymore that I can find. Still can use the tag to earn tokens.
Music
Music4Life
-
vibes
- All kinds of music
Art/Music/Creative
Creative Coin - creativecoin - Anything creative! Music, inventions, date ideas, art be creative with it!
Science
StemGeeks
-
stem
- Used for blockchain, math and science
Others
There are a number of others but they either don't fit into what I've been doing or I don't have enough information about them.
HIVE Games
Figured I would include this part where we would could go over all the games on Hive. There are actually a number of others launching soon that will be tied into WAX one of the biggest gaming blockchain markets. I believe these will start drawing some attention as to what Hive is and get people interacting with each other via Tokens on the hive blockchain.
Splinterlands Card based game that is quickly expanding into NFTs and other cool aspects. Count on this one being a winner for a long time.
Rising Star Music themed game which is starting to expand with some cool unique features. Also feel free to use the Vibes tag when posting about this game.
CryptoBrewMaster Personally I find this game difficult to make a profit in and it takes a bit to learn it so be sure to read up on it a bit as to what you need to do.
Posted Using LeoFinance Beta