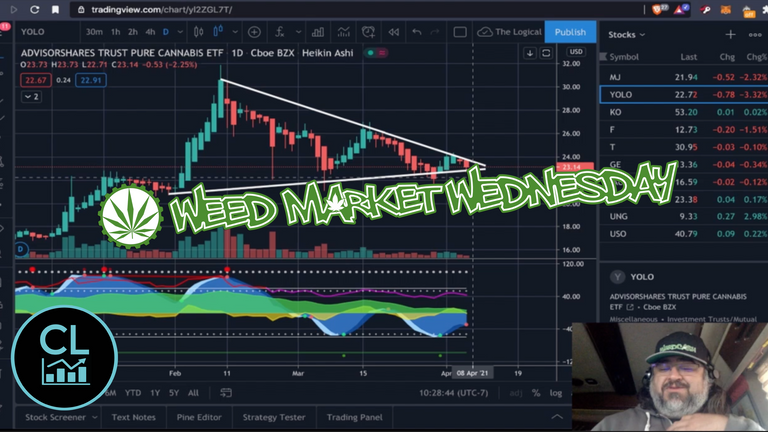 ---
Hello everyone, it's your boy, @thelogicaldude, back with another Weed Market Wednesday! Today we are looking at the prices of the WEED token and the WEEDM and WEEMM miner tokens, then getting into some technical analysis for the YOLO and MJ ETF's that we are trading options on Robinhood along with our Bitcoin/USD pair spot trading.
We are looking at new triangles forming on the daily charts for both with possible breakouts.
Testing with a new indicator that is a replication of the Market Cipher indicator by CryptoFace. If you want to see the site for the original and purchase if from him, check out https://marketcipher.trade/
But... if you want the version that we are using here at the Coin Logic trading desk, then you can check out the free versions that are on TradingView by clicking the links below. Market Cipher 3 part indicator, but we have the main 2 parts available for free! We didn't product the replica indicators, all credits are given on the description page. The Cipher A is ribbon indicator with all kind of noisy signals, the Cipher B, which is what we are mainly using is a combination of 5 oscillators: RSI/MFI/Stoch RSI/VWAP/MACD.
I would suggest though going through the videos from Market Cipher's website to get an idea of the basic strategy of it.
Here is the Cipher A indicator link:
https://www.tradingview.com/script/9hWqVcG9-VuManChu-Cipher-A/
Here is the Cipher B indicator link:
https://www.tradingview.com/script/9hWqVcG9-VuManChu-Cipher-A/
We also talk about some overall of the Weedcash sites, both on chain and off chain as well as the store!
Hope everyone has a great week! Happy trading and don't get rekt!
---
▶️ 3Speak