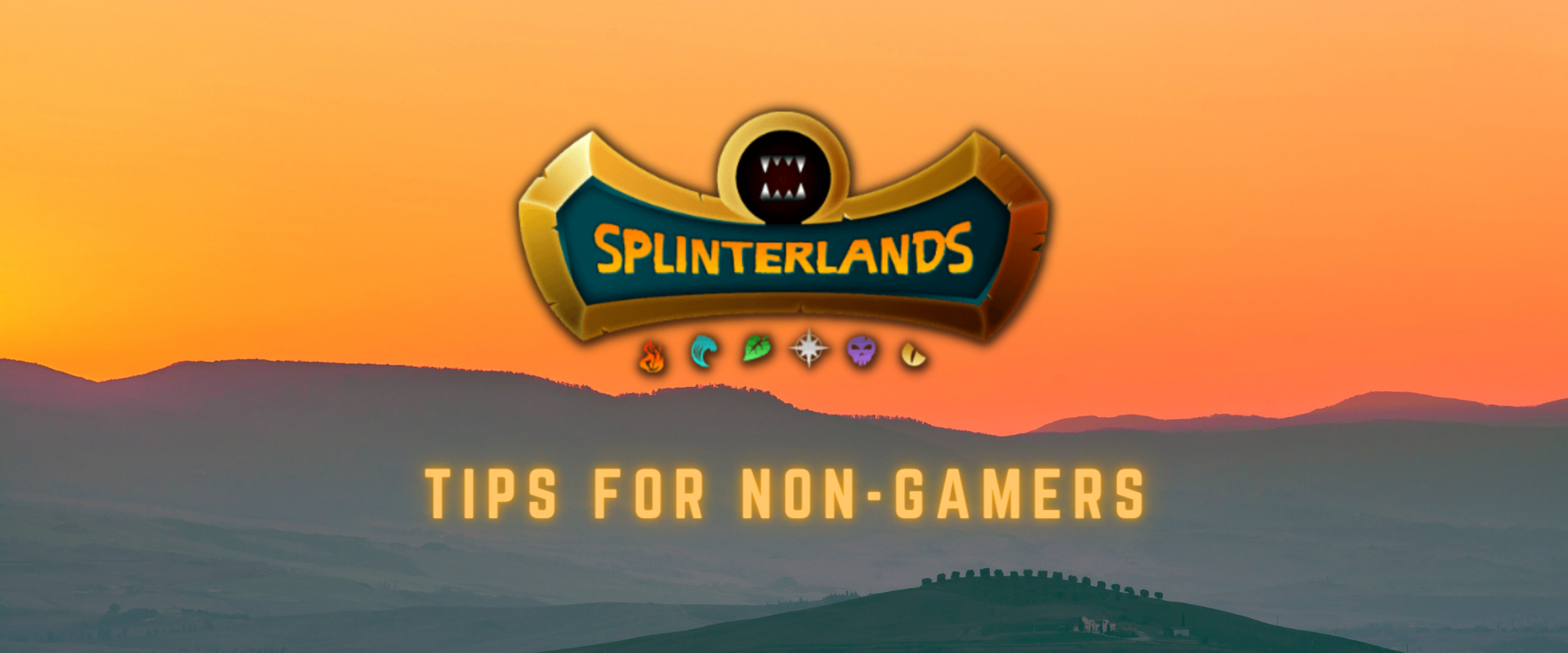 ---
@Splinterlands' success story is not hidden from those who are quite active in the P2E Blockchain gaming space. On 1st August, the total no. of spellbook purchases broke the record of the no. of purchases in the whole of June. That's a huge achievement for players, investors, game developers, and the whole HIVE community.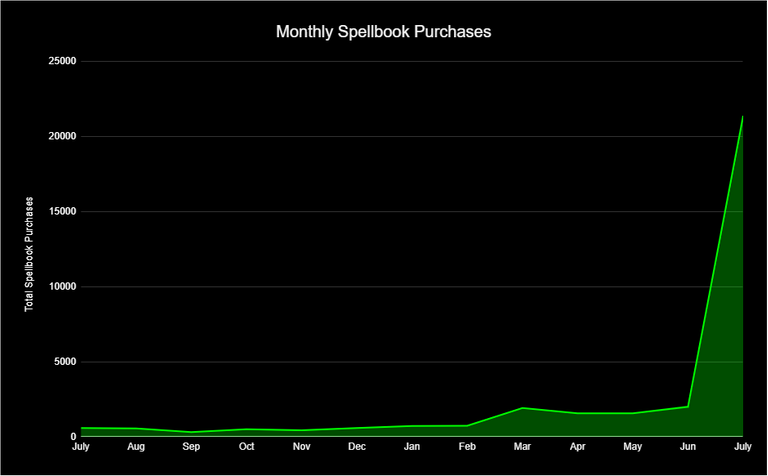 Just look at the number of sign-ups - a huge spike of over 10 times in the last one month. That's crazy! Each signup/spellbook purchase comes with a paid HIVE account created on the spot. Because you need a HIVE account to play the game. DUH!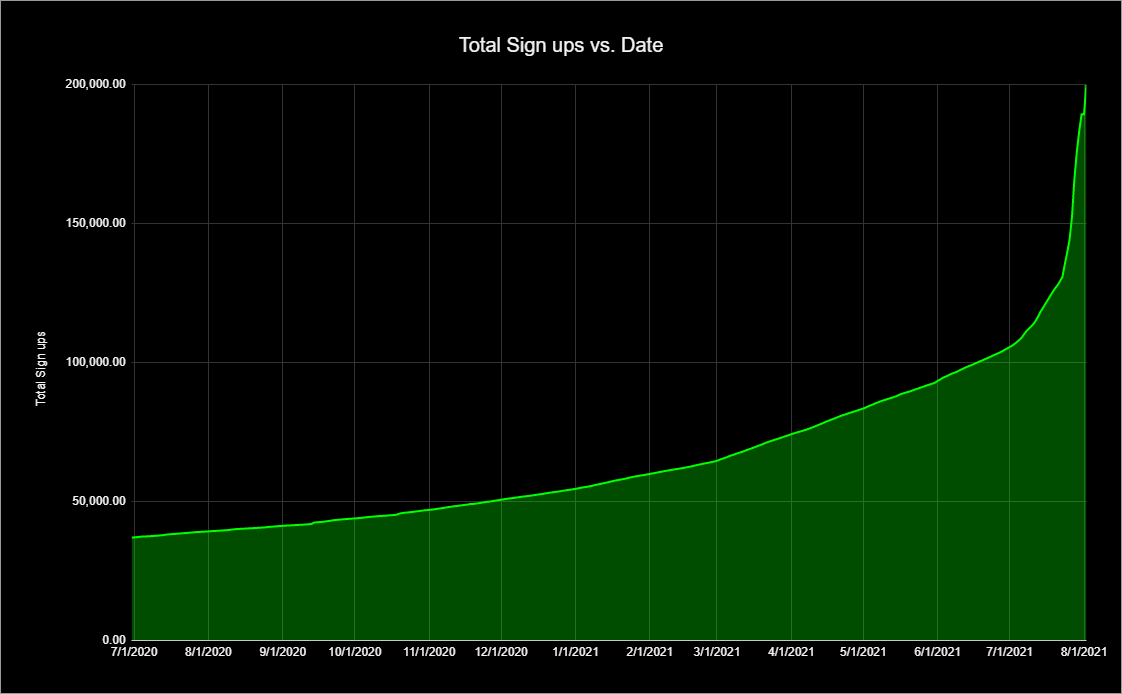 Growth is explosive and it just doesn't seem to stop. Everyone wants a piece of it - investors & gamers both. So as a non-gamer, you might be thinking about what to do with your money because obviously, you don't want to play. Maybe you have better things to do, maybe you want to play casually and still make shitloads of money. There are so many things within the game that you can do to notch up your investment.
Gamers gonna game! It's tough to beat people who have been playing this game for a long time for two reasons:
They have better cards
They have more experience than you
Hence, they have better odds of winning this game. So what can you do? I made a list of 5 things you can do to make money from Splinterlands without (seriously) playing the game yourself:
Invest In Cards: Investing in cards which are alpha/rewards, rare or legendary, or maybe GOLD. Basically, you want to hit those which are rare and low on supply. They will be expensive but you can choose from different options. Once you own, let's say 3-5 of them, you are all set to see their price rising as the game gets popular because the demand for those cards will increase. After 6 or maybe 12 months, you can sell them at a much higher price. Moreover, if you choose to play, some of these cards increase the capture rate of DEC with each battle, especially GOLD cards.
Rent Cards: Renting your digital assets is the best way to earn passive income in DEC (Dark Energy Crystals). Luckily you can rent out these cards on the market. You can rent them for as high as you want, depending upon the demand. During the season end, these rents go up high so it's better to relist them with a price bump. If you have a good set of 5-10 cards, you can earn a decent part-time or maybe full-time income throughout the year.
Buy & Hold DEC: You can buy DEC and simply hold it in your in-game wallet. Don't forget that DEC price will appreciate if more people buy and use it to invest in the game. Also, holding DEC will give you SPS (Splinterlands Shards) which is going to be the governance token of the game. Free money! It's going to be a year-long airdrop and we have barely touched the 40th Day. More than 10 months of airdrop is still left.
SPS Staking: SPS can be staked too within the in-game wallet and currently you can earn up to 136% APR at the time of writing this post. Claim your SPS daily and Stake them as well to get compound interest on your investment. Hopefully, SPS will have many more use cases in the future.
Learn Gaming: Now that you know the various ways to earn from Splinterlands, it's time to get serious about playing the game if you think that's a good idea for you. Doing daily battles even if you lose them, will make you learn more about the game. With a good set of cards, you can earn a little more DEC that will in turn give you more SPS. It's not that hard, you just need to be smart to dig a little deep into the game. If you want to know more about Splinterlands and DEC, then checkout this basic guide by @crypto-guides.
As a newbie investor to Splinterlands, I hope this list made sense to you. It's not too late to invest in it. The developers of the game are coming up with major updates in the upcoming months. So this is the best time to get on it. Please let me know if you know any other tips or hacks that everyone else can use to get the best out of the game. Comment below!
---

https://leofinance.io/@finguru

https://twitter.com/finguru6

finguru#4062
---

Not financial advice. For infotainment purposes only.
Posted Using LeoFinance Beta