Hola, Rockstars! Bitcoin trades at 27K, and Hive rocks at 0.42 cents.
E134 Jamal/An Epic Musician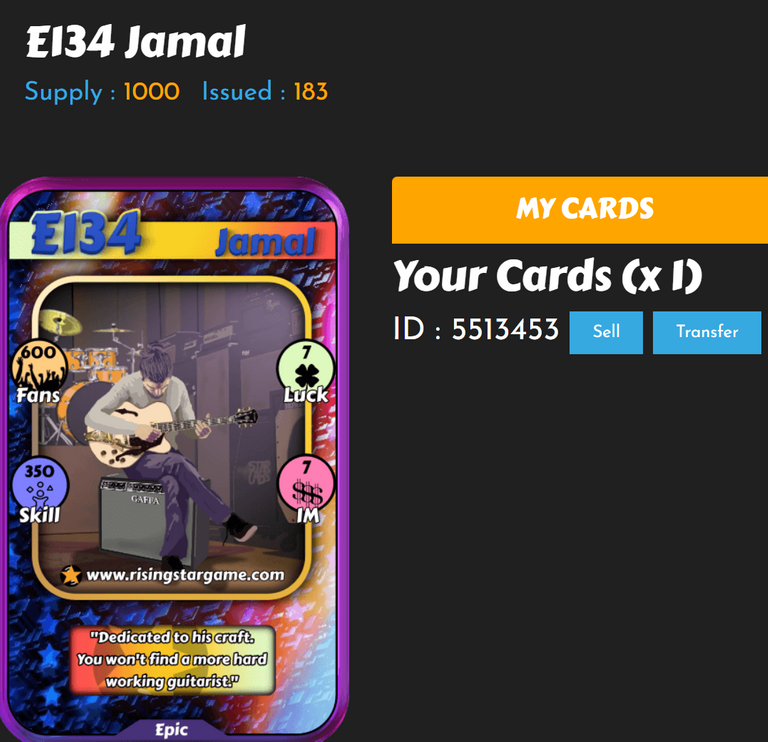 ". Dedicated to his crafts. You won't find a more hardworking guitarist. "
Fans: 600
Skills: 350
Luck: +7
Income Modifier: +7
An epic NFT with a total supply of 1000. One hundred cards are distributed. The market value is pretty good.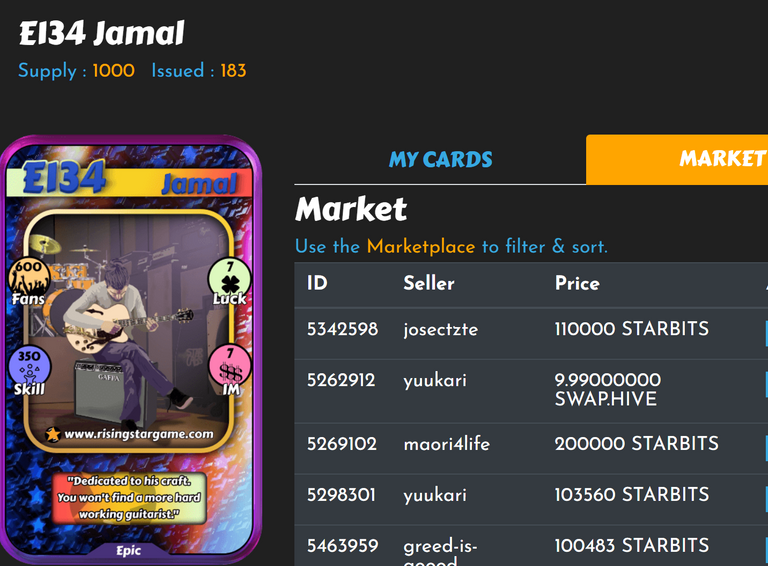 Let's move on to our Card Packs and see what we get now.
3 Card combo pack 1

It gave us Jade Kit. You know I feel jaded. My life was infiltrated by monotony and apathy. Doum Doum and Maracas. Together, they gave zero fans, zero skills, 52 luck, and zero IM.
3 Card combo pack 2
Let's open another card pack and see if we are lucky. Eight legendary cards we got from the card packs.

We added Shadow. Hello, darkness, my old friend.🎵 Scott and Simone. Have 165 fans, 155 skills, +4 luck & +3 IM.
3 Card combo pack 3

It is excellent to have Kira. He can make a computer keyboard sound like a grand piano.💙 We got Gaffa 60x and Defender 25e. We got rare & common cards: 125 fans, 75 skills, 14 luck, and +2 IM.
3 Card combo pack 4

It is superb to collect Rage. If you don't pay him enough, he might quit. Edmond and Cherry Burnt Bass: 160 fans, 160 skills, +4 luck & +4 IM.
3 Card combo pack 5

What a lovely addition to Les. he has a lot of experience.'🍀 We also got Doum Doum and Defender 25e.
Fans: 50
Skills: 150
Luck: +4
Income Modifier IM: +5
3 Card combo pack 6 to 12







This is it for today, Rock Stars. I'll be sharing more. Thank you for reading & supporting me. Much appreciate your love. Rock On!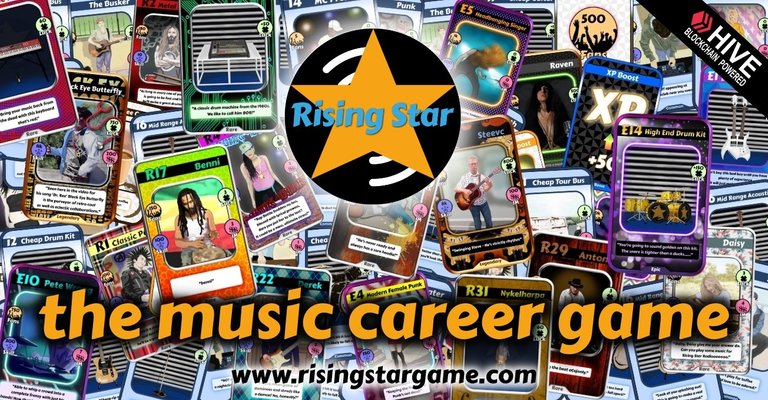 Rising Star - Play For FREE
Posted Using LeoFinance Beta