Hey All;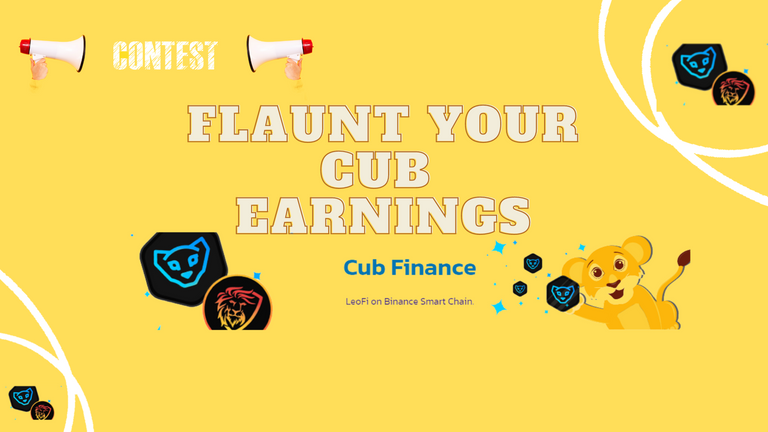 I hope you all are enjoying your $CUB Yeild farming. And so am I happing farming close to 15 CUBs daily; which account to $52+ where I'm averaging out the price of $CUB to $3.5+. As of writing this post, it's trading close to $3.8+; so my earnings per day increase accordingly.
Let's come back to the main point of discussion of this post; which is::
How Much $CUBs You Are Earning in a DAY...
I'm trying this contest for the first time here on the leofinance community. And if it does attract some attention, I plan to run this contest:: Flaunt Your $CUBs Earnings to WIN a CUB daily. This is my way of giving it back to society. I know the contest prize is not that much but still, I have that intention of giving it back to society in some or the other way out and hence trying this method of $CUB giveaway as a prize.. And who knows if I get some sponsors then for sure the price of the contest would increase may be double, triple god knows.. we will see how it goes.
Contest Flaunt Your $CUBs Earnings to WIN a CUB Rules::
No hard rules; just share the snapshot of your $CUBs earnings to participate that's iT...
I'll be using a comment picker tool to announce one lucky winner
Winner of the first contest is announced in the proceeding contest i.e. Contest 2 & so forth...
Once the winner is announced; the person will share his/her BSC Wallet Address and I'll send the $CUB prize
That's it for now; as we progress with the contest and as I mentioned if I'm able to get some sponsors will be increasing the $CUB reward prize.. for now lets::
Flaunt OUR $CUBs Earnings to WIN a CUB
Feedback; suggestions are always welcome....
Best Regards
---
Find Me on the Other Social Media Platforms::

Join me on Odysee & Earn 8 LBCs for FREE... YES for FREE...
HealthDear Youtube; Information tied to Health
HealthDear LearnTogether; Learn English & Hindi
LearnTogether FaceBook Page
PS:: Image Credits:: cubdefi; leofinance
Posted Using LeoFinance Beta