Coinbase Earn has added new tokens to be earned simply by learning and taking a quiz! But there is a catch .. read on :)

Most of you may already know about the Campaign by Coinbase where users can watch a few videos, answer questions and then earn tokens.
I had participated in the past, had learned a few tokens but then even though I was verified I noticed that in all new tokens I was not eligible to receive the airdrops. Instead, I was added in a wait list ...
And I still am - but there are some new tokens that I believe will be available for everyone!
You can sign up for Coinbase here This is a ref link that will earn us both appx 8 Euros in BTC if you buy or sell your first 83,24 Euros on CoinBase!
Then you can visit https://www.coinbase.com/earn to see if you are eligible for the free tokens!
So far the tokens that can be earned are:
Ampleforth Governance Token - FORTH 3$
The Graph GRT 3$
NuCypher NU 3$
Stellar Lumens XLM 10$
Compound COMP 9$
Celo CGLD 11$
Universal Market Access UMA 6$
Numeraire NMR 3$
Band Protocol BAND 3$
Maker MKR 5$
Filecoin FIL 6$
Algorand ALGO 6$
Zcash ZEC
EOS
Orchid (OXT)
Kyber Network KNC 6$
Tezos XTZ 6$
Dai DAI
Basic Attention Token BAT
0x ZRX
I saw that I was eligible for a few, such as the NU token (3$ of it) and I started the course
BUT ...
Please pay extra attention
The video that you will see is shown to you only once
This means that you need to watch the video carefully, because you cannot re-watch it if you do not know the answer to the quiz. So it will be a pity to loose the free 1$
Most of the questions may be easy to understand, but still - you need to be attentive.
I just earned 3$ in NU, in just a few minutes so I needed to share with you!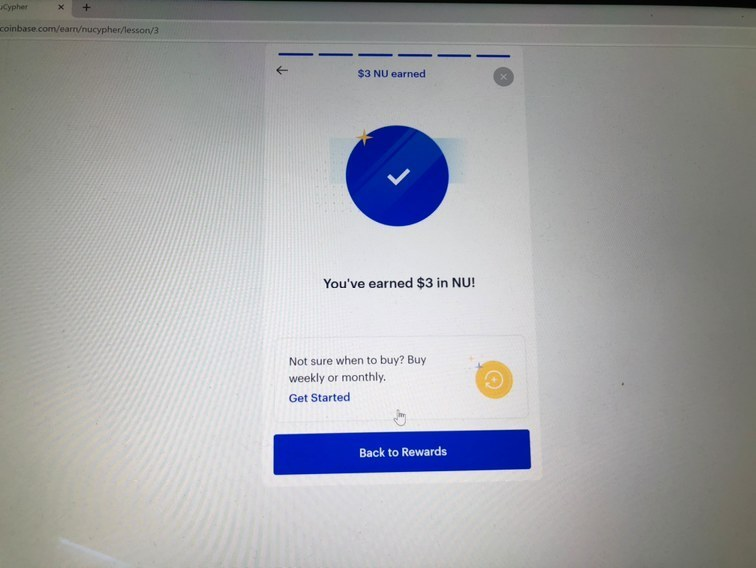 ---
These are the funds from the 3 questions, as transactions appearing in my mail!

Have you seen the new tokens airdrop? Will you participate?
Any other opportunities out there? Let me know in the comments and of course .. thanks so much for visiting!
---
Who am I?
I am Katerina from Crete, Greece. An enthusiastic content creator with a passion for photography. Interested in the blockchain technology, in new social media platforms and in trying to educate new users who wish to explore the blockchain social media world and its possibilities!
Posted Using LeoFinance Beta