We are gearing up for a massive run in the following months.
So, a couple of days ago I stumbled upon what is probably the most bullish Twitter thread you will ever find. It is true that Twitter is one of the best places to look for reliable, up-to-date, crypto-oriented information, and following the right accounts on Twitter is one of the keys to success in the crypto business. Our villain, CryptoCapo, is definitely one of those technical individuals you need to keep an eye on if you want to stay tuned with the latest developments in crypto.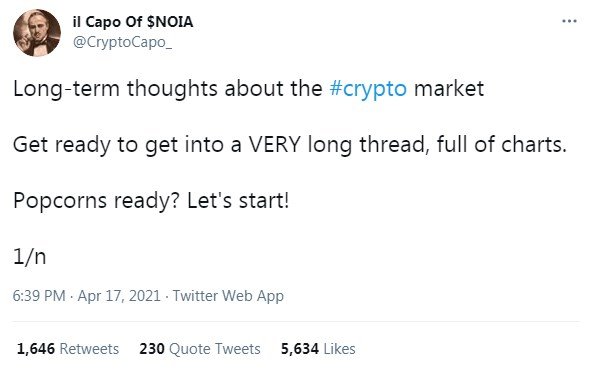 Keeping an eye out for fresh info can make a really big difference. The people who bought BTC in 2009 were paying attention, digging the web, chasing amazing opportunities. Guess what, it worked.
As a matter of fact, Capo provides valuable insights into the markets on a daily basis, so I highly recommend following him on Twitter. In this thread, he took things to the next level. It's a very lengthy one, full of market indicators and charts, and it's probably all you need on a red day, when you feel like the FUD is starting to get the best of you.
There are way too many reasons to remain optimistic about the future of the space, and some of those are perfectly portrayed by the charts provided.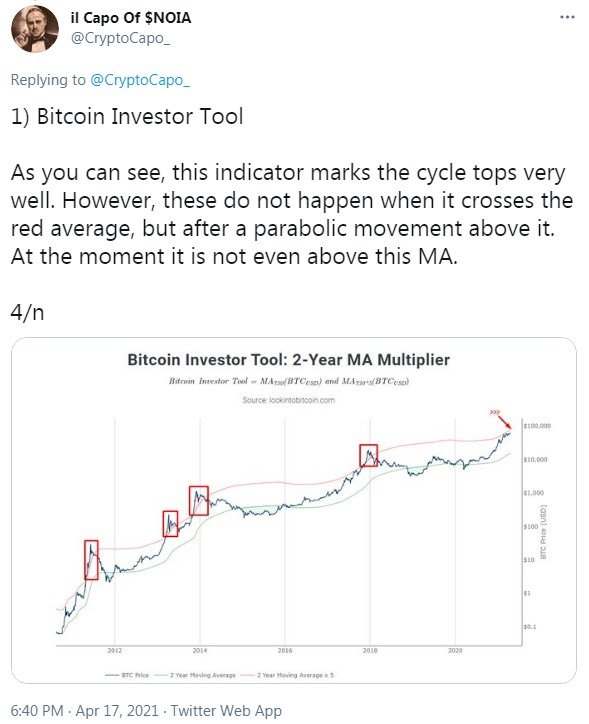 If the 2-Year MA Multiplier is a credible indicator, BTC will cross $100k soon.
The 2-Year Moving Average Multiplier is considered by many to be a quite reliable long-term investment tool. Investors use it to decide whether buying or selling BTC at a given point in time is a smart move. It has been historically proven that buying below the 2-year moving average (green line) and selling above the 2-year moving average x5 (red line) translates into profits.
However, keep in mind that the events of the past do not necessarily serve as evidence of what the future holds. The game is a living organism, transforming and moving from one stage to the next one. And we are still in the very beginning. There's a long way to go.
To be fair though, this indicator has worked well over the last 9 years. Thus, it's not far-fetched to hope it will be proven right once again in the not so distant future.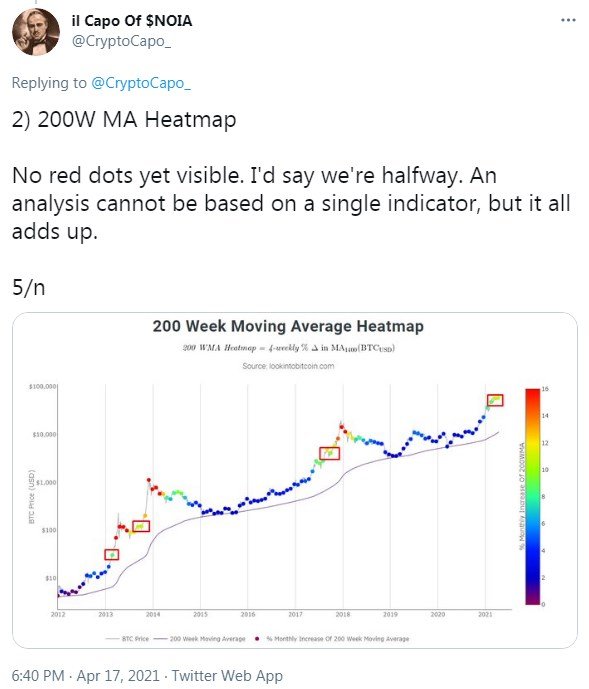 If the 200 Week Moving Average Heatmap works, you guessed it, $100k here we come.
The 200 Week Moving Average is another tool investors use in order to pick good entry and exit points. At times when the month-by-month increase of the 200 week moving average is greater than 13%, it's been proven to be a good time to exit. On the contrary, at times when the month-by-month increase of the 200 week moving average is lower than 2%, it's probably a good time to pick your entry point.
The chart suggests that we haven't reached the top of this cycle yet, but again, nobody has a crystal ball, so take everything you read in this post with a grain of salt. It's speculation based on the data we have gathered throughout the years, so it's possible that we do not have enough information to see the bigger picture yet.
There's a bunch of other charts in the aforementioned thread, so there's a lot of material to study in case you're looking to delve into the technical details. I certainly learned a lot and researched even more thanks to this thread, so it's a must-read as far as I'm concerned.
It is true that the crypto game has been attracting major attention over the last 6 months, and considering that the vast majority of internet users still don't know that much about crypto, I believe that a huge run of epic proportions in the following months is quite possible.
Even the Central Bank of China has recognized the asset value of cryptocurrencies. There's nothing stopping the crypto game from taking over the world.
We can't fail.
---
I appreciate your attention.
Alright guys, that's it for now. Thank you for taking the time to read these lines.
Just my two cents. This is by no means financial advice. Just sharing my personal views and experiences. Please do not take my word for your investment choices, and always do your own research.
Stay safe and have a good one,
@lordneroo
---
Posted Using LeoFinance Beta