Hey everyone!
Just wanted to share an airdrop that I stumbled upon the other day (funny enough, through a post here at LeoFinance!)
After checking their airdrop page (which you can still do yourself at this link: https://airdrop.osmosis.zone) I was quite pleased to see that I had nearly 500 OSMO tokens waiting to be nabbed up! I had no idea that staking ATOM back in February (albeit, not a very large amount) would net me some extra-juicy airdrop rewards.
At the time of writing, each OSMO token is worth $1.76 - a few hours ago when I claimed my airdrop, they were going for ~$1.96 each. I plan to stake and hold these long term - I made the mistake of dumping everything back when the Uniswap airdrop happened (I ended up being able to claim twice for a total of 800 tokens, and fucking dumped them all the same day for $3.50 each - fast forward some months and then they're worth $30+ /cry).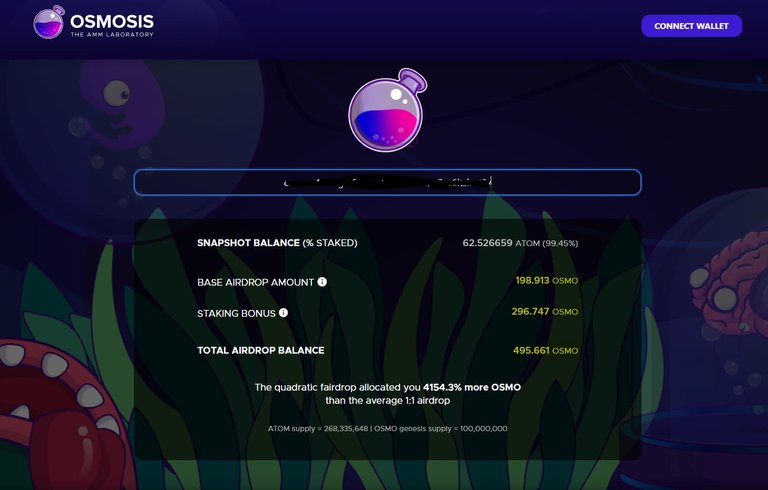 They aimed to truly reward those that were STAKEHOLDERS in the Cosmos network by running a "fairdrop"- not just whales, and definitely not just exchange-held tokens. I thought this was a pretty unique approach to rewarding stakeholders, which are truly the backbone of any great blockchain.
The team over at Osmosis held a few-hour launch party/live stream earlier, where they explained plans for Osmosis (a pretty slick new approach to AMM's, which I'm definitely keeping an eye on!), as well as a walkthrough for claiming your airdropped tokens.
The way their airdrop works is as such:
Download their Keplr wallet - set up your seed AND BE SURE TO BACK IT UP! This wallet is a browser extension (like MetaMask) and supports various currencies, including ATOM. Be sure to add your secret phrase to the wallet from whatever wallet that you were staking ATOM in (as long as you've found that you're eligible for the airdrop).
Visit their site, https://app.osmosis.zone/, and connect with the Keplr wallet.
Head on over to their airdrop claim page, found here: https://app.osmosis.zone/airdrop
They've broken up their airdrop claim process into 5 separate "missions" - an immediate 20% is released simply by connecting. The remaining 80% is released by completing various simple tasks (like staking at least 1 OSMO, adding a small amount of liquidity to a pool of your choice, etc).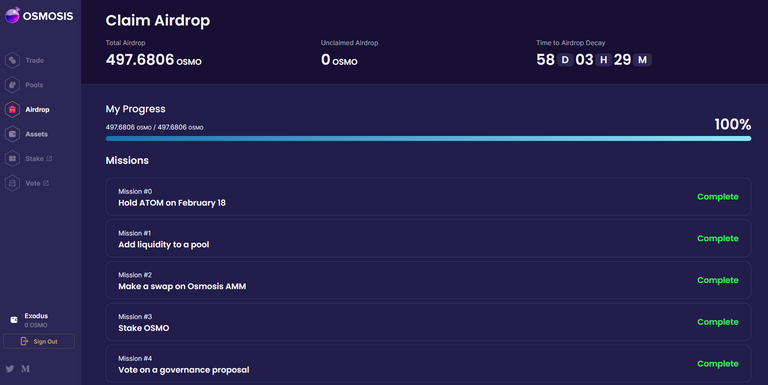 Follow the "missions" and claim your free loot! Was definitely nice to wake up today to a free nearly $1k USD :D I've staked nearly all of my OSMO and intend on letting it grow until it hits a nice, juicy, $10-$20 each!