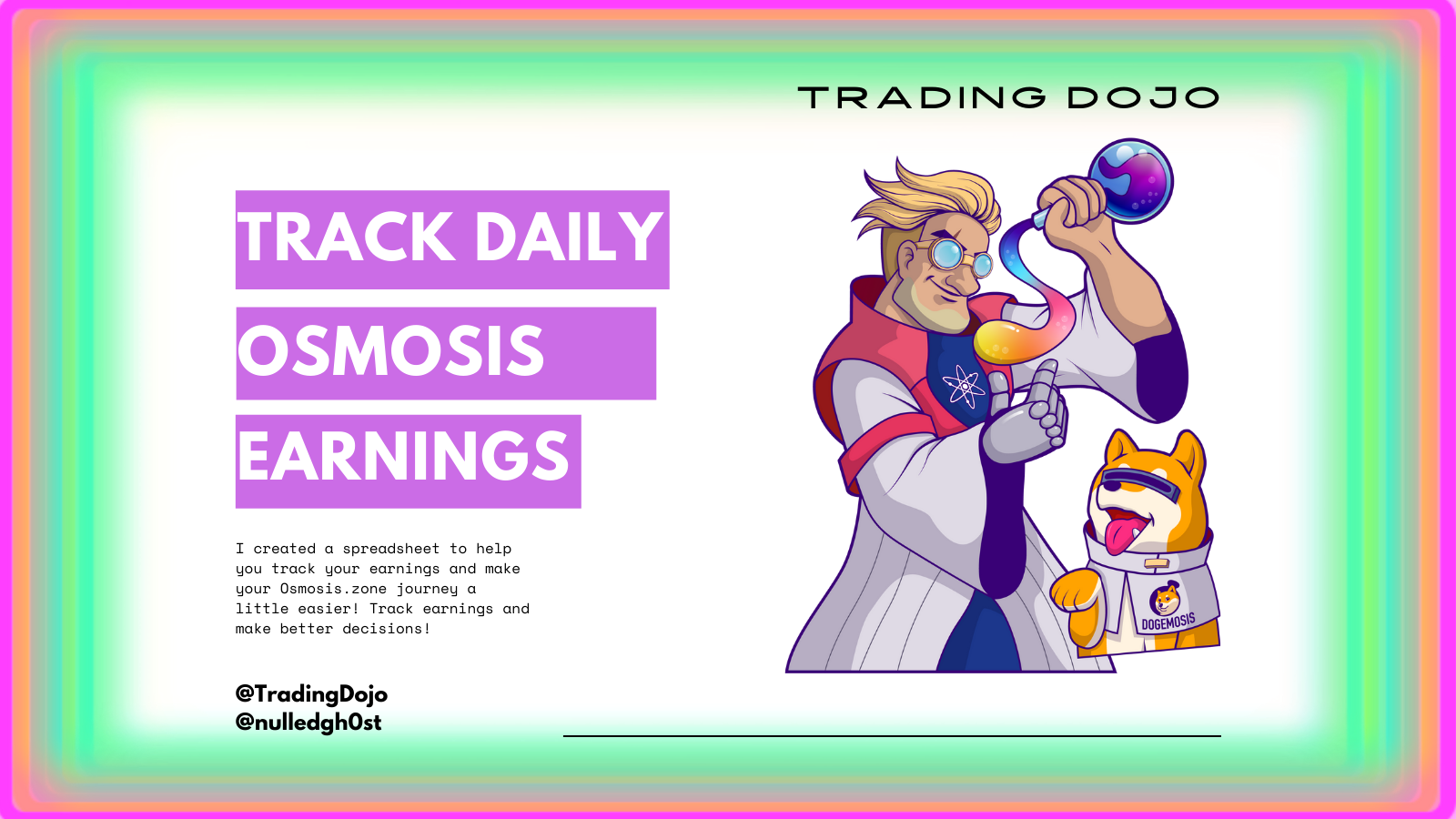 Lately, I've been dumping any excess I have into $OSMO and $ATOM - absolutely loving Osmosis and what's coming for the ATOM ecosystem as a whole.
I've been staking and earning since day 1 of Osmosis.zone launch, but haven't really "tracked" (at least, officially) my earnings, rates, etc.
Which seems silly, if I'm trying to optimize my earnings and be as efficient as possible with the resources I do have, right? I mean, if you want to retire early and follow a path of FIRE, spreadsheets and number crunching just kinda have to become your thing!
So, I created a spreadsheet to track everything OSMO yield farming!
At the moment, columns are NOT automated with formulas (something I suck at and still need to learn, but will update ASAP so that you don't have to do mathz daily!
Some of the columns I've added (so far) include:
Date (obviously :P)
OSMO Daily Price (at time of reward payout/claim)
OSMO Staking
Total OSMO staked
OSMO daily yield (tokens)
OSMO total earned (adding previous daily earnings)
$USD value of OSMO earned that day
Total $USD earned (adding previous daily earnings)
LP Pool Bonding
Pools you're bonding to (right now, only displays ATOM/OSMO since that's all I bond to, but you can update this by copying the columns)
Daily pool bond value
Daily pool yield in OSMO
Total OSMO earned (adding previous daily earnings)
Daily $USD value of earned OSMO from bonding
Total $USD earned from bonding (adding previous daily earnings)
Total Earnings Data from Staking + Bonding
Combined daily yield (in OSMO)
Combined daily yield (in $USD)
Daily Compounding Method (in case you're staking, bonding, doing both, or doing multiple bonds) - allows you to track if/when you change things up
Daily Staking APR %
Daily Bonding APR % (I only do 7 days, so I put that directly in the cell - but if you have various bonding pools and durations, create extra columns for these)
Tracking all of this data allows you, over time, to make better decisions, and also track how much your Osmosis venture is earning you! I've only been tracking for 4 days and already, the data I'm gathering is staggering - I'm loving watching my daily $ earned from yields rise and rise.
I know this spreadsheet isn't perfect. There are other columns I want to add, things that need to be automated with formulas, and other situations that may apply to you, that does not necessarily apply to me (like multiple LP bonding).
Download the spreadsheet as a CSV here - it currently contains some dummy data from the past few days, which you can replace with your own. Also, feel free to spice it up and drop a comment if you made some cool changes! I'd love to see what you add/come up with :)
[file no longer available]

And, just for all the skeptics out there, here's a Virustotal scan (pops a "malware" from the anonfiles site, but it's clean):
[file no longer available]
However, it's a start, and I hope it helps at least get you started with tracking your gains! Take control of your earnings and make better financial decisions long-term - I promise it will make you more in tune with your finances moving forward, and to also identify when things just aren't working as well as they used to.
Enjoy! Drop some love if you would like more goodies like this from me - always looking for new things to create and help others when it comes to finances and staying organized!
Much love, friends.
-TradingDojo / nulledgh0st
Posted Using LeoFinance Beta