I was thinking to switch these reports and do them once per month, but I'm afraid it wouldn't be enough to keep me focused on my goal... And the point is to motivate me regularly and keep myself on the "right track"... So, I have decided to rather skip monthly reports, and do only these weekly ones! So, let's dive into the first report in April...
Firstly, Happy Easter to everyone who celebrates it! I had an awesome day that I spent with my family and some of my dear friends and I hope that you have done the same!
So, back to the goals... As this is the first report in April, we are back into the "red zone" and these red rectangles... Luckily, I have made a nice jump start with coloring two monthly goals at the very beginning of the month!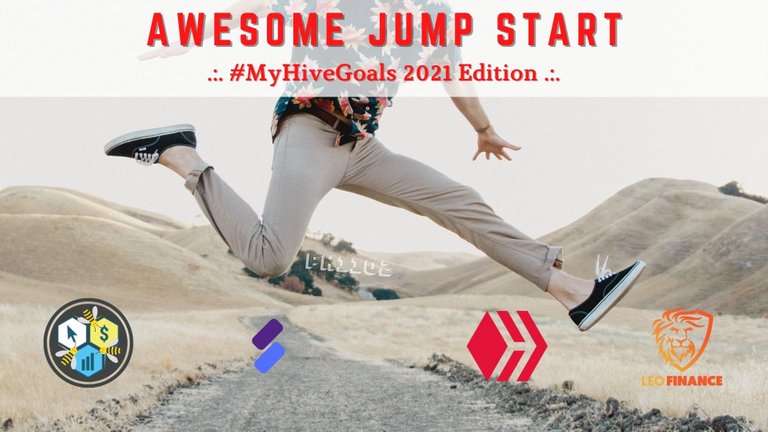 Created in Canva.com
I have to admit that, at the beginning of the year, I knew that I will invest more in tribe tokens, and in Layer-2 tokens in general... I had some favorites from the last year, and I have decided that I will spend a lot of my HIVE earnings on them... You can see some in this #MyHiveGoals reports, but there are a lot more... So, that was the main reason why I didn't create some wild Hive Power goal for this year...
It is only 25K, and I have started the year with 20K... So 25% growth in 1 year isn't something "challenging"... I mean, it's not easy, but I could do more, and as time passing by, I'm thinking of pushing more this goal and maybe try to reach 28-30K this year... It will depend a lot on the HIVE price, so, we will see... I will still stick to the 25K goal a few months more and I'm already close to reaching my monthly goal for it!

After withdrawing my bLEO and powering up, my LEO Power went up significantly... Yesterday was a payday of Geyser rewards for liquidity providers on Uniswap and that boosted my LEO Power goal even more... Still missing more than 1% for April, but it looks more reachable than last month struggle... :)
One important thing happened in the @clicktrackprofit tribe past month... They have changed the curation reward curve to linear, which means that it doesn't matter how fast are you upvoting others as your rewards are secured and fixed... As I like to manually reward posts and upvote comments of the people who engage with me, that helped me a lot in collecting some "dust rewards" that I was losing before... So, my CTP Power goals now looking much better than before... I'm finally back on track!
The one goal that is already in green is my SPORTS POWER goal! At the moment I have almost 8.5M tokens, which is just awesome! It looks that my goal of having 15M is easy to get, but I know that it means consistency and content creation every single day... So, I will try to continue doing that!

My GAMING GOALS are doing well... The RISING STAR goals look a bit too high, and some of you guys expressed concerns about them in the comment section of my previous reports... Yes, it is a bit "steep", but I still think that I can do it and accomplish my goal of having 2000 cards at the end of this year! It's all about the "compounding effect" (or snowball effect) which should work better and better closer to the end of the year...
The only goal that I'm not concerned about is the DCITY goal... I'm not that "bullish" on the game in general, but still have some hopes that the downtrend can be reversed... Not quitting or anything like that, just being more cautious and investing only my income from the game... Which is enough atm to keep my goal alive!

In the end, I would like to make an update of my current numbers (April 4th, 2021, 2021) on #MyHiveGoals: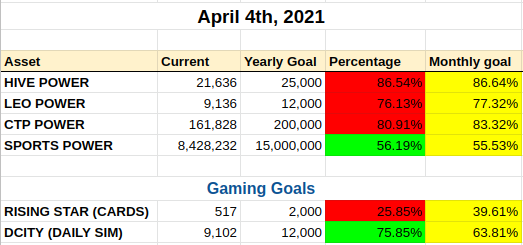 Join us in this awesome #MyHiveGoals and let's grow together! You can find the original post about the challenge by @robwillmann here: https://peakd.com/myhivegoals/@robwillmann/new-challenge-myhivegoals-set-and-achieve-your-goals
Thank you for your time,
~ph~

The link to my initial 2021 Goals Edition is here...
These are my initial goals for 2021 on January 15th, 2021, and this #MyHiveGoals Challenge:
HIVE POWER - 20,000 / 25,000    80.00%  needed monthly grow 1.66%
LEO POWER     - 8,000 / 12,000  66.00%  needed monthly grow 2.83%
CTP POWER - 150,000 / 200,000   75.00%  needed monthly grow 2.08%
SPORTS POWER   - 5M / 15M       33.33%  needed monthly grow 5.55%

Gaming Goals:
RISING STAR (CARDS) - 189 / 2,000    9.45%  needed monthly grow 7.54%
DCITY (DAILY SIM) - 5,488/ 12,000   45.73%  needed monthly grow 4.52%   (base Income - before taxes)


If you want to support my witness, you can do it by voting for @ph1102.ctp here https://tribaldex.com/witnesses, or just scan the QR code down below...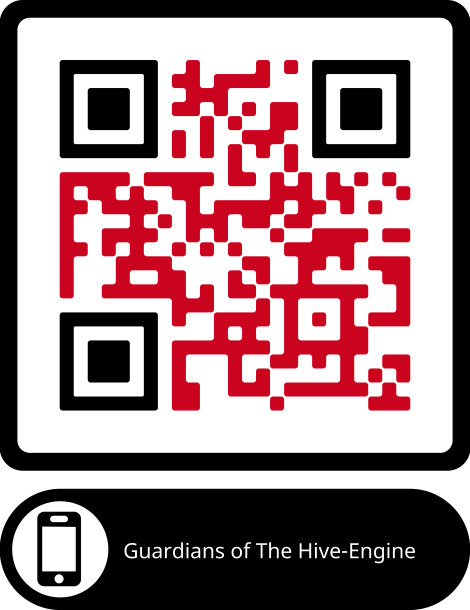 Don't forget to follow, reblog, and browse my Hivepage to stay connected with all the great stuff!
You can also find me on LEO Finance .:. Twitter .:. LBRY
Posted Using LeoFinance Beta