Expecting more sarcasm from me here are we?! Sorry to disappoint you, but this is in fact a pretty serious post...lacking my typical sarcasm!
Let's take a look at the chart below.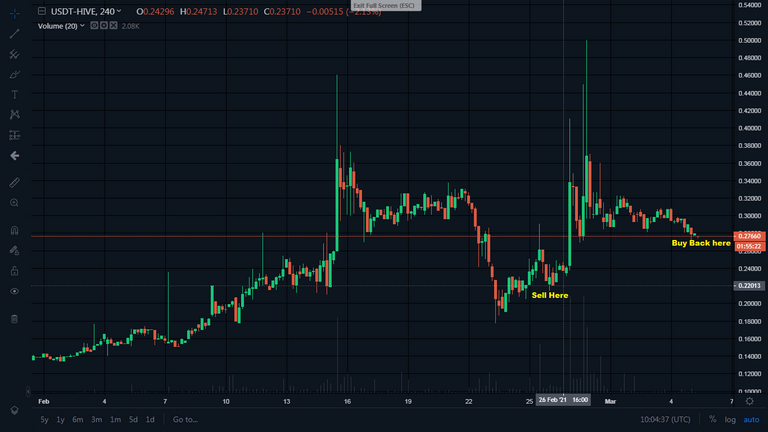 This is the textbook way of losing money. You sell low expecting a fall in price, instead the price rallies. Or, you buy high expecting a price move up and the price crashes and you sell low. The chart above is the 4-hourly HIVE/USDT chart from bittrex and the trade pointed out is a real trade. In fact, it is my own trade! But where's the art here you may ask..? Bear with me for a while!
---
A few weeks back, dada messaged on our discord that he just lost north of $4000 in a single trade. That is a massive amount of money. A few hours later dada messaged us again that he recovered the money back and explained us how he did it. But how he did it was not the most important part of the message he sent. The thing that hit me hard and still stuck with me is when dada said, "Nobody takes my money and lives to tell the tale."
That swagger right there, that confidence is what I wanted to emulate with my trading too...how much money I make is secondary. As kenny Rogers said, "You never count your money when you're sitting at the table. There will be time enough for counting when the dealing's done!"
---
Alright, back to my trade!
Do note that when I use the term "SHORT" here, it's not in the traditional shorting I talk about as I am not borrowing any asset to trade. But I'll use the term short to reflect the concept of shorting a trade to make it easier for me to write.
It is no new information that I scalp HIVE regularly and my entire trading volume was generated from the profits of HIVE scalping. I started out with 2000 HIVE and had slowly reduced it to scalping with 1000 HIVE only and removing from the remaining 1000 to a separate account for just holding.
A few days back, the entire market was in a bearish mood and I had no liquid USDT left to buy the juicy dips. I waited for at least one of my positions to rally and let me liquidate the position to enter some other trades. I waited and waited and nothing happened. I was getting a little frustrated. Out of frustration, I made an impulsive decision.
HIVE was just starting to recover from its dip down to 17 cents and was hovering around 22 cents. With the state of the market being still generally on a downtrend, I shorted 1000 HIVE at 22 cents. Yep, you heard me right. 22 cents!
I was expecting to buy back at 18-19 cents and keep repeating to generate some liquidity to enter other positions. But as it always happens, I am the best indicator of a price rally. When I sell, shit starts to smoke weed and go high! And rally HIVE did! So there I was sitting with $220, and prepared to say goodbye to my 1000 hive as I could not see it returning to where I sold, not anytime soon.
But then the voice in my head kept reminding me, No one take my money and lives to tell the tale!
I went ahead and made more impulsive decisions to try and cancel cancel out my first impulsive loss! I took the remaining 2000 hive that I was saving....every last bit of it and placed sell orders starting from 33 cents all the way up to 38 cents.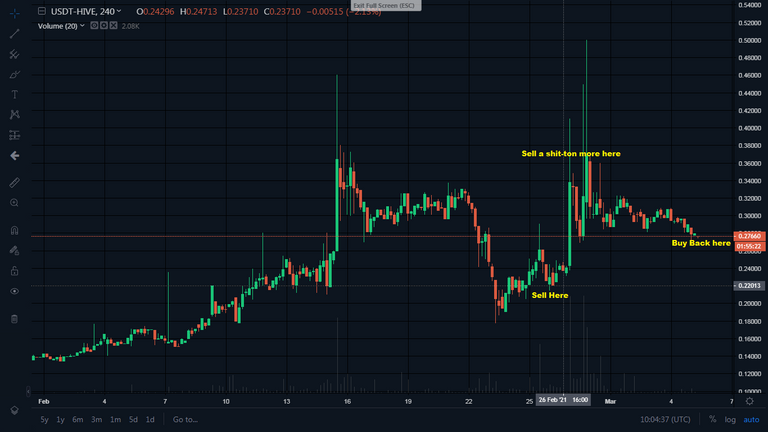 My first batch of sell and buys hit pretty smoothly...withing 3-4 hours.
But the whole process wasn't nearly as simple as it looks like on the above image. It involved a lot of calculations in my head and a LOT more patience to set the sell and buy orders to not only recover my position but also to come out of a shit trade with significant profit. This was very important for me to show myself I can do it!
@zayedsakib, now you know why I couldn't buy back when ever the price dipped to 30 cents, 29 cents, 28 cents and so on! Now you know why I was so stubborn on my target!
Patience paid off and my target filled this morning! The dealing's done, now we count the money!
I started off with 3000 HIVE (1000 that I sold off at 22 cents + 2000 from my egg's nest).
And right now I have 2600 HIVE + $220.
3000 HIVE - 2600 HIVE = $220
i.e. 400 HIVE = $220
So turns out I sold 400 HIVE at a price of 55 cents huh! I'll take that deal every day of the week!
Every chart in the entire cryptoverse will tell you that HIVE never touched 55 cents in months, so I could not have sold any hive at that price. But the fact is, I DID.
And that ladies and gentlemen, is the Art of Losing Money!

Posted Using LeoFinance Beta