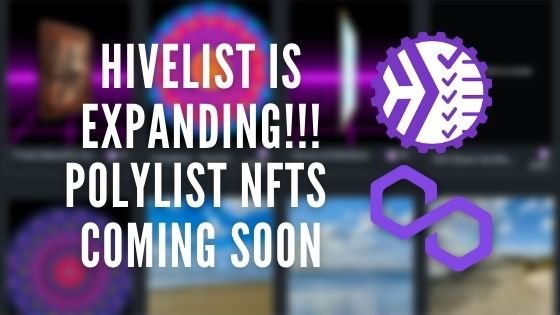 With the expansion of our beloved HBD stablecoin over to the Polygon blockchain via our friends over at @leofinance and giving it an awesome DEFI use case with their Polycub platform, we figured we would give the pHBD token an e-commerce use case.
Enter PolyList Coming Q3 2022
Polylist will be and NFT marketplace that will utilize the pHBD token as the payment token for the marketplace! This will require people to purchase the pHBD token to use as to purchase NFTs, thus requiring people to use the exchanges that will also help the liquidity providers earn fees on the exchanges from USDC. Or, it will force people to buy Hive, convert it to HBD, then convert to the pHBD token. This will hopefully help drive use cases for the token.
We have purchased the polylist.org domain which will be the home of the web front end. The build will begin soon and will be ready in Q3! We are waiting for some of the front end framework for the NFTs to be finished up then we will be able to get going with the main development and bring this thing to life!
We will be adding menus to all of the Hivelist front ends so it will also be easy to link to from there directly.
The site will require Metamask for secure one click account creation and login.
NFTs As Tickets
Through BlockTunes, we are partnering up with @gamestate for metaverse events and we will be able to utilize PolyList as place to buy and sell event tickets! This is just one use case as we have ideas of being able to integrate NFTs into allot of other avenues.
Bulk NFT Collections
Want to launch your own large NFT collection but have no idea how to get started? We will be making it really easy for people to have their collections minted and put up for sale on our marketplace! You make the images and a CSV file with all the information, and we do the rest!
The PolyList DAO
We will also be starting up the PolyList DAO which is where the smart contracts will be set to send the market commission from NFT sales. The funds in the DAO will be put into the USDC-pHBD pool and farmed using Polycub through the DAO. Keeping the DAO invested into stablecoins will help create a solid base to help built not only the new PolyList platform, but also the existing HiveList ecosystem!
The DAO will help us build funds to support further development and marketing for the Hivelist/Polylist ecosystem! Details are still being worked out on if we are going to do an investment token, or NFT collections that will represent the investment in the DAO.
Expanding Beyond Hive Brings More Attention to Hive
Opening up Hive to other blockchains is going to be essential to helping it grow. This seems to be the the same thought process that was behind the creation of the pHBD token. Having basically a cross chain network that will still utilize the LIST token as a payment method for whitelisting, we can really show off what we have going on.
So here's a little hint for you, those that are already whitelisted on the Hivelist NFT marketplace will get a free whitelisting on the PolyList marketplace! We will be doing a snapshot of the registered NFT creators on the Hivelist NFT marketplace at a date that will be later specified. Those people will be sent an encrypted memo via a Hive transaction that will give them a coupon code to get whitelisted for free!
This Is Just The Beginning! More Info To Come!

Be Cool, Be Real, and always Abide!
https://thelogicaldude.com - The Dude's main site
https://hivelist.io - Classifieds, NFTs, DEFI Pool, Online Retail
https://HiveHustlers.com - Community for Entrepreneurs and All Around Hustlers
https://coin-logic.com - Live crypto market data, news, and research
https://blocktunes.net - Music NFTs, DAO, Downloads, and more
https://groovelogic.audio - DJ/Producer/Sound Engineer music and services
https://weedcash.org - The Highest Form of Social Media
View my channel on 3speak.tv! Video platfrom for a free speech society!
https://3speak.tv/user/thelogicaldude
But if you must... here is the YouTube channel link:
https://www.youtube.com/channel/UCtGApfTp4ZzLHksDdImJ9JA
Join Hive by going to:
https://signup.hive.io/
Want to shop using crypto, or even start your own online store? Check out the Hivelist Store
If you like what I am doing, please consider voting for my Hive Engine witness with your staked WORKERBEE!
https://he-voter.vercel.app/thelogicaldude
Or at
https://tribaldex.com/witnesses
Get started playing Splinterlands, the top blockchain game in the world, today!
https://splinterlands.com?ref=thelogicaldude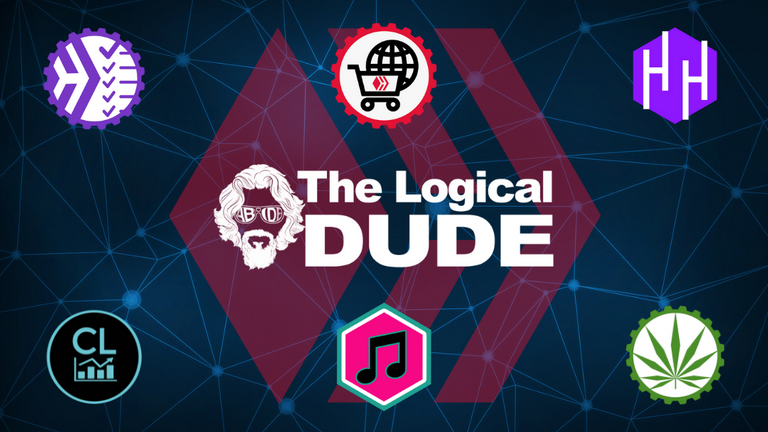 Posted Using LeoFinance Beta