Coin Logic is my little crypto research, charting, and news home on the internet. This is actually my very first crypto project and has been through many changes over the years. I wanted to take a moment to talk about some of the new updates that have come to the site, and some new and exciting things on the horizon!
Bitcoin and Ethereum Scalping Charts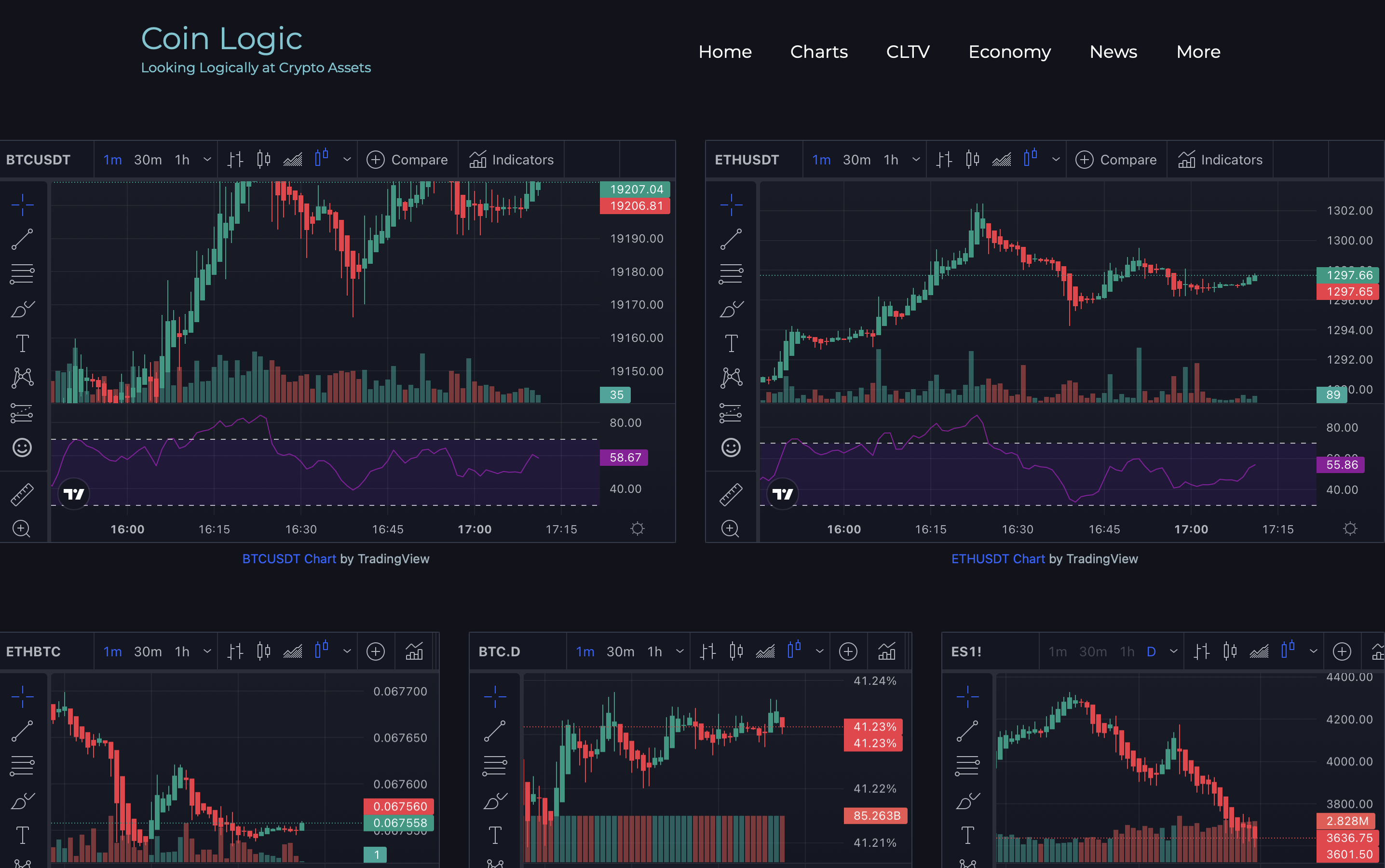 The newest feature to the site is the new 'Charts' page! Now, if you have been a user, you know I have had charts here before, but I have changed things up to make it easier for me to see the information I need when I am scalping Bitcoin and Ethereum.
What this page currently shows are charts that I like to have in view when I am doing my quick scalp trading. I mostly trade Bitcoin using leverage on the ApolloX Exchange, which is a DEX on BSC and now Ethereum (I use BSC). I am considering actually applying for my own ApolloX exchange face for Coin Logic. If you would like to see this come to existence, please let me know in the comments! It would use the Apollo X backend and order books, but would just have the Coin Logic branding. I have a domain, https://coinlogic.finance that is just chilling for something like this.
SimpleSwap Exchange

Speaking of exchanges, we have re-integrated the SimpleSwap exchange into the site! I have been using SimpleSwap allot lately to exchange smaller amounts of crypto around and it works great! Exchanges can take anywhere from 5 minutes to an hour depending on the assets you are exchanging. But if you have any issues, their support is excellent! So this now gives you a way to make some spot trades, without any KYC!
Other Front End Changes To Coin Logic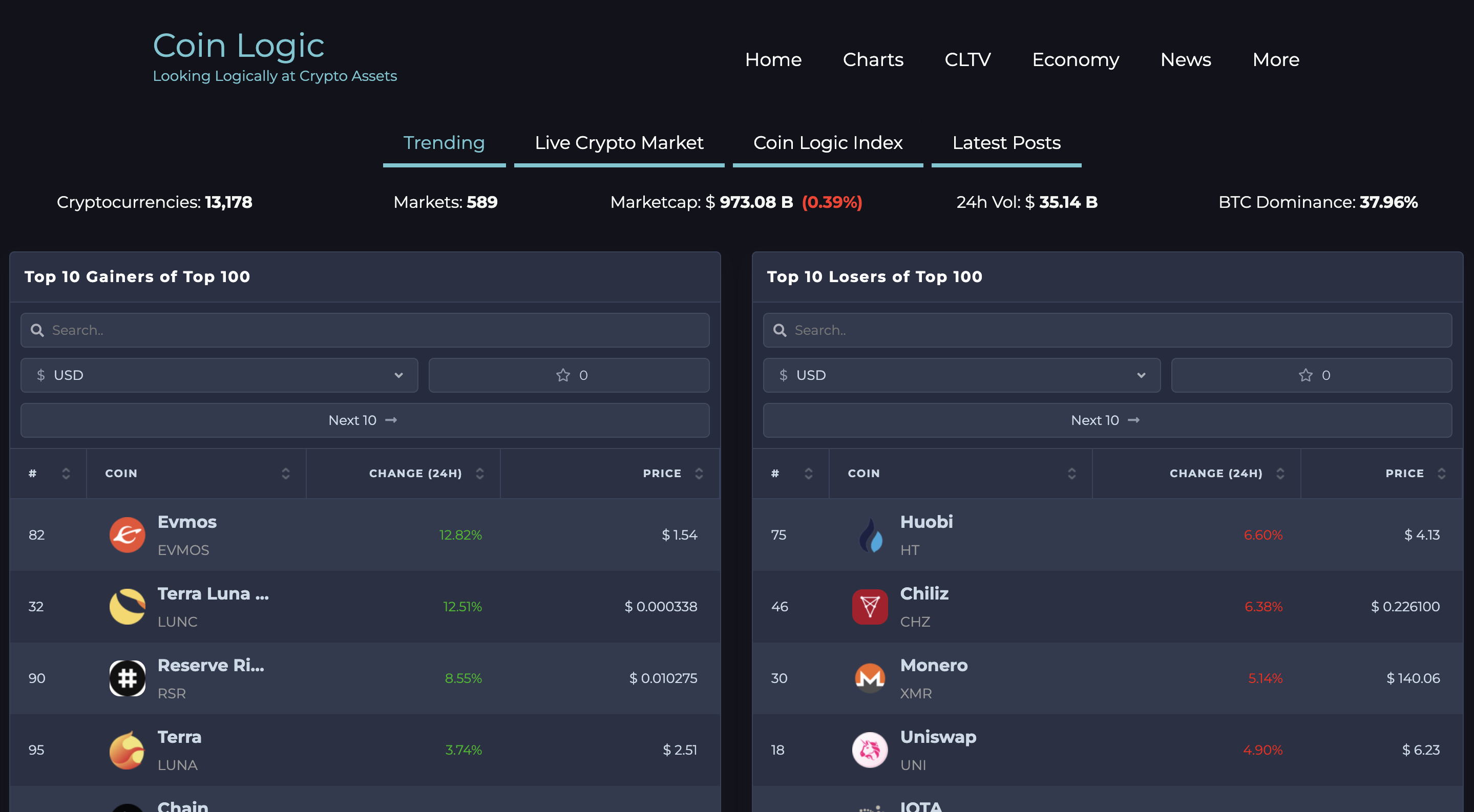 Other front end changes that I have made is well on the front page! When you visit Coin Logic, it opens you to the Trending tab so you get a first glance at the gainers and losers, as well as the Fear and Greed index meter and the Bitcoin daily technical analysis meter from TradingView.
Then you have tabs for the Live Crypto Market that opens you up to the entire crypto market with live pricing data! You also have the Coin Logic Index which shows you the assets I am invested in or watch for one reason or another. After that you have our latest posts from myself, and I would love to add other contributors down the line as well! Just need to start generating some traffic and revenue!
Upcoming Chats With Taskmaster4450!
One thing I am really excited is that Coin Logic TV is coming back to life! I had to take a video production break for a while to get some other things in my life in order, as well as I took another job that has been taking up some time. But I will be back making crypto videos and getting started with a new Monday Market Update with the one and only @taskmaster4450 !
I am really excited to have a weekly session with him to discuss the markets and economy on a grand scale and then anything else in between that we may end up chatting about!
Discord Server
There is a Coin Logic Discord server that isn't really being used, but I would like to actually build up a bit of a trading community of sorts. I know that there is the big LeoFinance community, but I want to put a lot of focus on trading and trading education. So if you are interested in following me with trades and getting updates on the latest Coin Logic posts, then com and hit up the Coin Logic Discord.
More Trading Education Content
I am wanting to put more focus into trading education and content rather than so much focus on regurgitating the same news that everyone else is. I will be looking to produce a daily news post that talks about some of the big topics of the day from our outside news sources, but the big focus will be on trading. I am putting much of my focus into trading and want to help people with what I am learning along my journey. I feel that if you teach people the lessons you are learning, it helps it stick in your brain more and it helps keep you accountable to practicing what you preach!
Let me know what you would like to see on Coin Logic in the way of features, tutorials, etc... Also, let me know if you would support our leverage trading exchange built on the Apollo X DEX framework? I would love to know, it's free to set up apparently, just takes work...
Until next time everyone...
Be Cool, Be Real, and always Abide

Nothing said is financial advice.
This is for educational and recreational purposes only!
Stay safe in these volatile markets and don't get rekt!
Follow the markets and get the latest data and news on Coin Logic
Trade with me on Apollo X on BSC
Posted Using LeoFinance Beta