Hello! Risers...
How is your Star?
Be active and Be Happy! 😅
I reached level-79 yesterday. I do
Music lesson the most currently to
level up. The new map is opened.
But can not do any new missions.
Because of level requirements.
There have a lot of Missions. You
can do mission as you like. I am
doing the best missions daily what I
can do.
I joined the Rising Star 2nd
Birthday Party. I pied 30000
Starbits for that mission.
It will gives an animated
cards.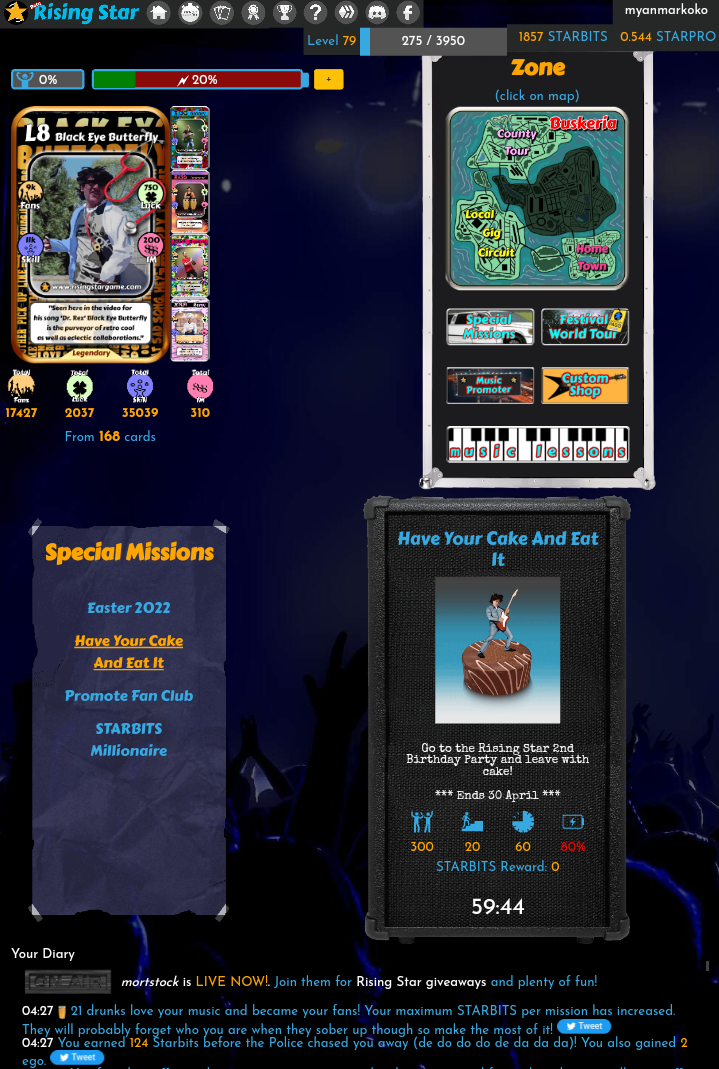 What about you?
I like this Blockchain Game
because it make me happy by
collecting Cards and getting
reward. I spend my free time in this
game.
My Account Status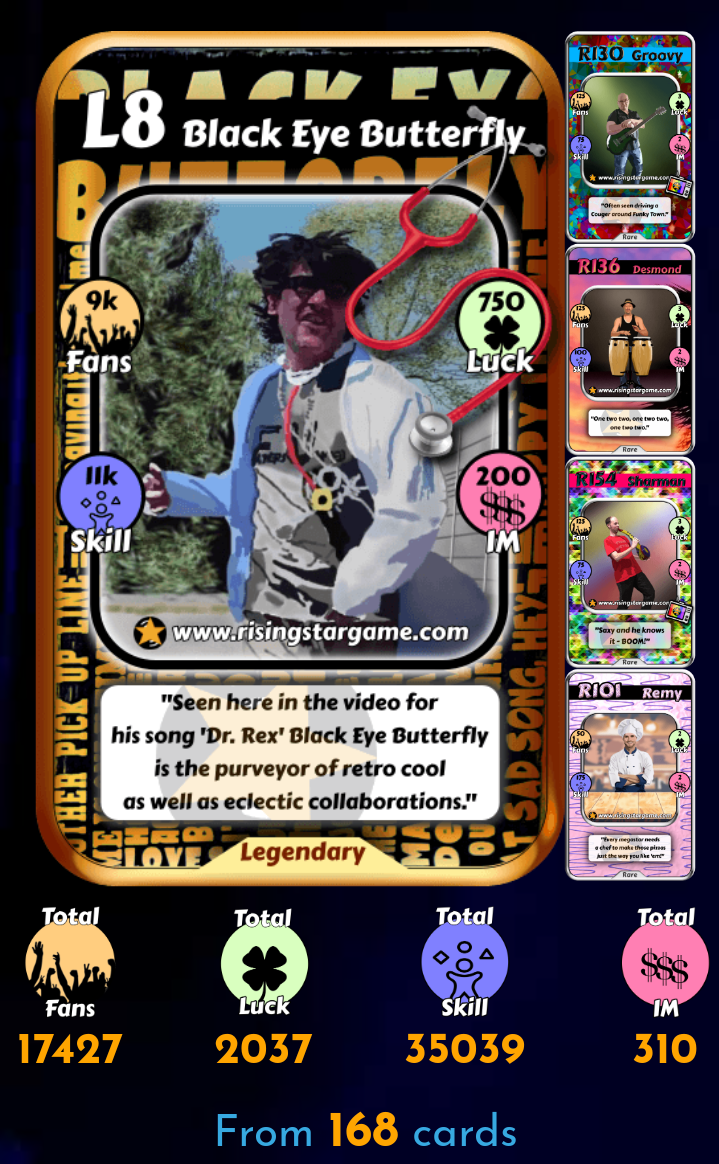 Fan : Now I have fans 17427
included Temporary Fans.
Temporary Fans is currently 1437.
But Its enough fans in this level.
Skills : I have 35039 Skills included
from music lesson. I have skills
more than fans. So I control my ego well.
Luck : I have only 2037 Lucks. I had
not get any luck in two days.
IM : 310
Total cards : Now I have got 168
Cards.
I completed 1781 total missions.
If I reached 2000 missions I will get
packs or something as reward.
How are you today?
Ok Today is Rising Star Giveaways day. I am going to announce the
winner for todays Giveaway.
Happy Giveaway Party😁
**Welcome new users! Who
participate in this Giveaway. There
have 5 new participants-
@tommyl33
@pochocletx
@phaeton
@jonimarqu
@nikoleondas
Previous Rising Star Giveaway - 1000 Starbits (ends 11 April 2022)
Good luck! to you all...
26 Users name of participated in
this Giveaway. I going to use
spinner to choose a Lucy person.
@amaillo
@luizeba
@dubble
@princekham
@irisworld
@coquicoin
@lordanquek
@nysster
@myeong
@supriya.gupta
@blitzzzz
@lipe100dedos
@thaddeusprime
@hatdogsensei
@new.things
@tengolotodo
@rafasete
@mario02
@tommyl33
@pochocletx
@phaeton
@jonimarqu
@nikoleondas
Congratulations! @coquicoin please leave a comment and I will send "Starbits" for you. What a grate day winner!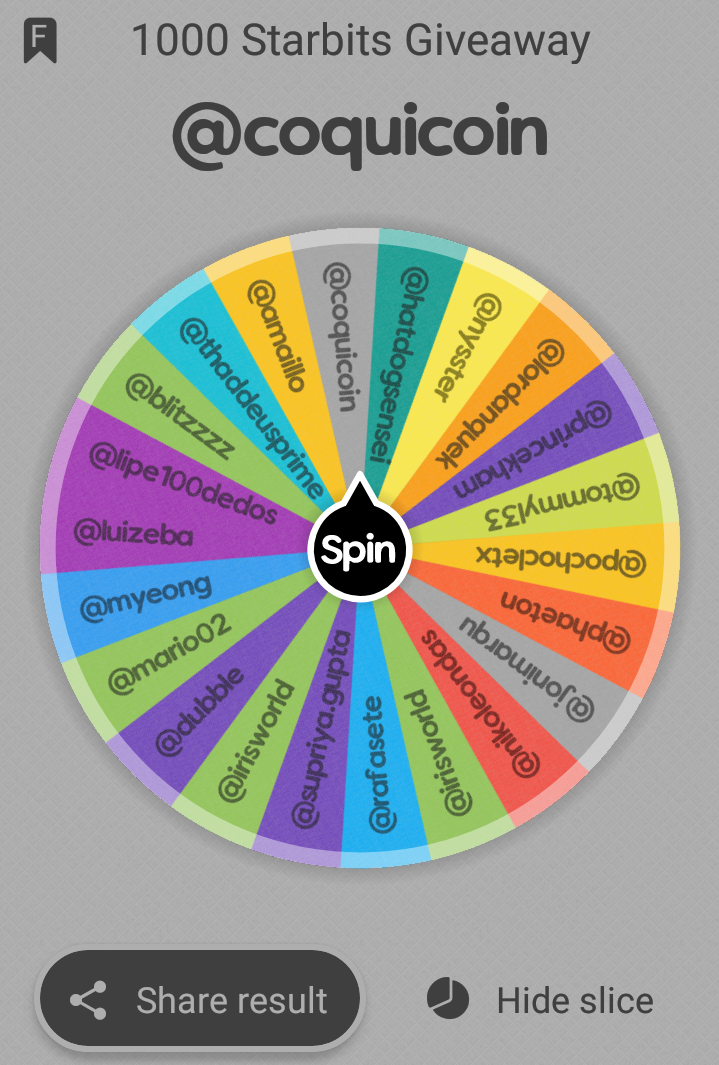 How to participate in this Giveaway?
Today I am very happy. So I make
1000 Starbits Giveaway. I will
choice the winner by using Spinner
App.
Rules!
Must include your Game Acc
name with your comment.

Only one person for one Acc.

End Giveaway 15 April 2022.
Rising Star is the best game of the
Blockchain gaming that give
Cryptos. If you have not try it yet
you can use my refer link below
TO PLAY RISING STAR GAME LINK Click Here
And If you have any questions you
can free freely connect to me >>>
Connect to me>>> Touch Image

Post creator : @myanmarkoko
From : Myanmar
Name: KoKoMoeHein
14.04.22

---

risingstar giveaway oneup blockchain-game creativecoin proofofbrain trafficinsider neoxian