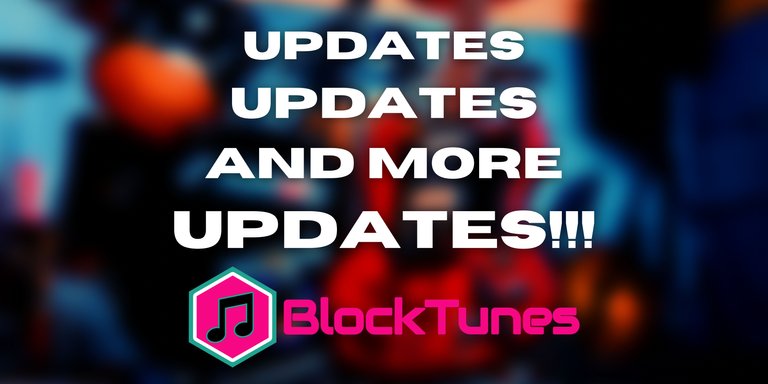 The evolution continues for us over here at @blocktunes! We are working on building the best all in one solution for musicians that want to give it a go as an independent artists! We are also setting up to work with independent labels as well!
BlockTunes.Social
First I want to start off talking about our new, awesome front end on the Hive blockchain! Thanks to the awesome break away community setup from our friends at @spknetwork and @threespeak, we were able to set up our own BlockTunes.Social front end on Hive! This gives any artist on the Hive blockchain a place to post their music and get discovered! We are going to be actively promoting this front end as our prime social platform!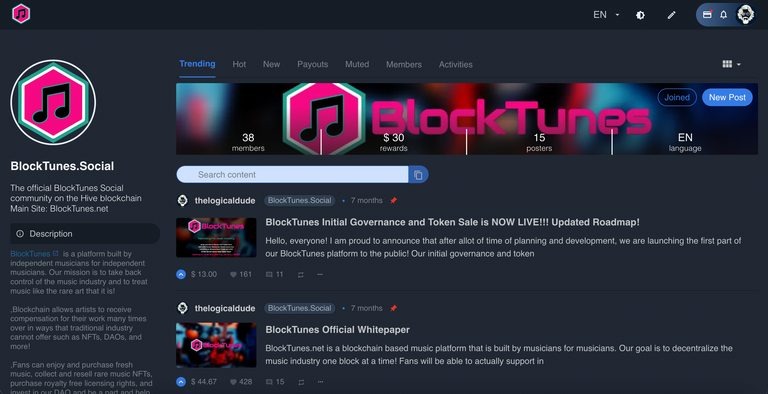 If you don't have a Hive account, then you can click here to sign up and get started earning crypto by sharing your music or just getting involved and engaging!
New Artist Packages
We have 2 artist packages that you can sign up for. The Opening Act package gets you signed up on our site, activates your artist store, lets you mint NFTs on our OpenTunes collections as well as the Creator's Copyright collection! As far as music distribution is concerned, this package is a pay as you go package, meaning you pay per release. Artists can also list their music on their own BlockTunes store along with any merchandise or external NFTs they want to link to and showcase in their artist store!
The new BlockTunes Headliner package gets you everything from the Opening Act, except you get UNLIMITED releases for a one time fee! Not only that, but you also get your own BlockTunes artist bio page where we add pictures, a bio, external links, a feed to your BlockTunes.Social feed or any other RSS feed you want published like Soundcloud or Mixcloud! If you would rather embed your Twitter profile, we can do that as a replacement.
But wait... That's not all! Headliners also get their own custom NFT marketplace collection! So instead of minting your work on the OpenTunes marketplace, you can mint your work on your own collection, which BlockTunes takes less of a percentage cut from sales!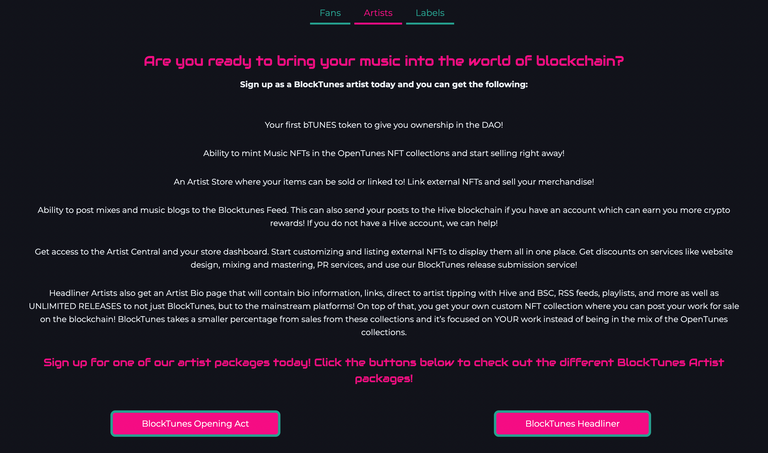 Enhanced Security
Being in the world of cryptocurrency and blockchains, there is no shortage of people that want to try and hack your site. So this is why we have taken all the steps that we can to improve security on the site! We have set up increased security on our firewalls to help against attacks, which also means you need to keep up with your login information because if you fail 3 times, you are kicked out for a solid 24 hours!
We have also increased account security for our BlockTunes artists by integrating Two Factor Authentication! This will help give you a second layer of protection against login hacks! This is a huge step to helping keep out any attacks and protecting your account, and more importantly, your BlockTunes wallet!
Next Up For The Team
EDITIONS NFT Marketplaces
This week we are going to be working on getting the new BEP1155 NFT marketplaces up and running! This gives artist the ability to mint multiple NFTs for their music! Similar to say The Hivelist NFT marketplace or NFTShowroom, you will be able to bulk mint multiple editions of one piece of work. This will be called the OpenTunes EDITIONS collection!
The OpenTunes RARE marketplace is a BEP721 NFT Marketplace which is meant for one of a kind, rare items! This is our original marketplace, but just wanted people to know the difference. The new marketplace is also set up for lazy minting as well, meaning the NFT isn't actually minted until purchased!
Instructional Documents and Videos
This is the next big priority. We are going to be spending time this next week or two creating new and updated How To documents and videos that will explain every aspect of BlockTunes. This will include the sign up process, store setup, media and product setup, NFT minting and more!
This has been something we have been trying to do for sometime, but things have been constantly changing until now. We have finally gotten everything settled and heading in the right direction, or are basically finished so we will not have to keep making new instructional documents.
These will all be done through the @blocktunes account and posted here on BlockTunes.Social
It's Allot Of Work
This has been one of the biggest projects that I have taken on. Mainly because of having to also tie into the mainstream music world and finding the best solutions, dealing with aspects of wallets and getting everything working with the blockchain correctly, payment issues, and not to mention the fact that we are trying to provide as much value as possible for our artists and fans.
Trying to compete in the music industry is one thing, but also trying to compete in the blockchain space is another. There are constantly new projects popping up, or you are seeing your competitors advancing before you, but that's okay, most competitors are putting our incomplete projects. Because of this, I am really glad it has been a slower adoption rate, because we were not ready at the initial "launch".
Now, we are strapped up and ready for lift off! After onboarding @ravenmus1c and moving 5 of her releases over to our distribution service all while keeping her same stats and metrics, we are sure that we are ready for the big time! All of the kinks have been ironed out and the plan is solid!
So if you are a musician, come and check out what we are building over at BlockTunes.net!
Until next time, you know what to do...
Be Cool, Be Real, and always Abide!
Posted from https://blocktunes.social on Hive!