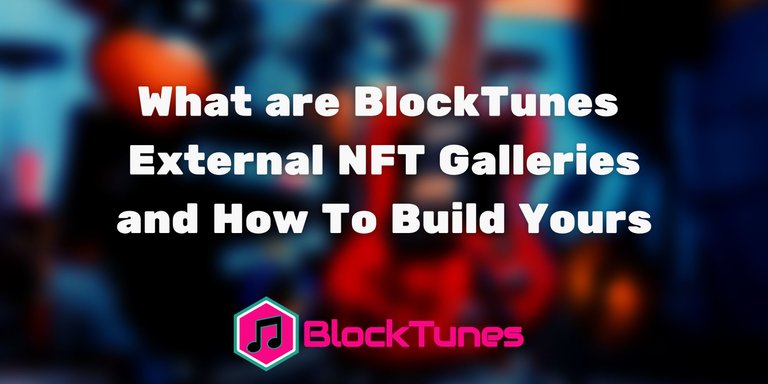 Hello everyone, in this post I am going to explain what our BlockTunes external NFT galleries are and how registered artists can build theirs!
What are BlockTunes NFT Galleries
Well simply put, it is a way for artists to use their BlockTunes store to bring all of their NFTs from across other blockchains and marketplaces such as Opensea, NFTShowroom, AtomicHub, Hivelist NFTs, NFTTunez, etc.
When you list the NFT, it will be considered an external product and will link the customer out to the correct marketplace the NFT lives on and the purchase will be made there.
Pretty simple concept. This is currently the only type of product that artists can add to their store aside from minting NFTs in the 3 main collections.
This is separate from the other NFT collections and is displayed as a part of the artist store. Fans can access the menu option under the 'NFTs' menu and they will see the option: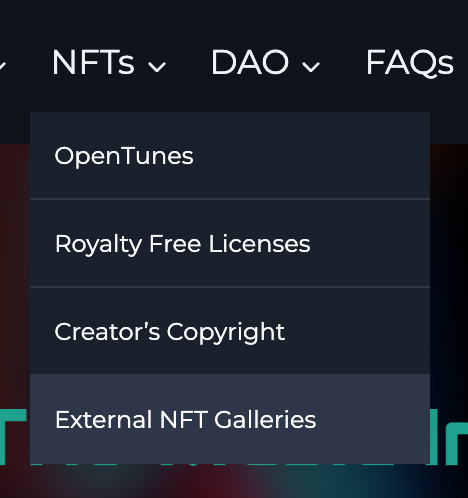 So How Do Artists Create NFT Gallery Products?
Well I am going to lay it out in a visual manner. Each piece of the form is numbered and will be explained below...
First log in to your account. Then once logged in, you will go to your 'My Account' menu and you will see the option for your 'Store Manager'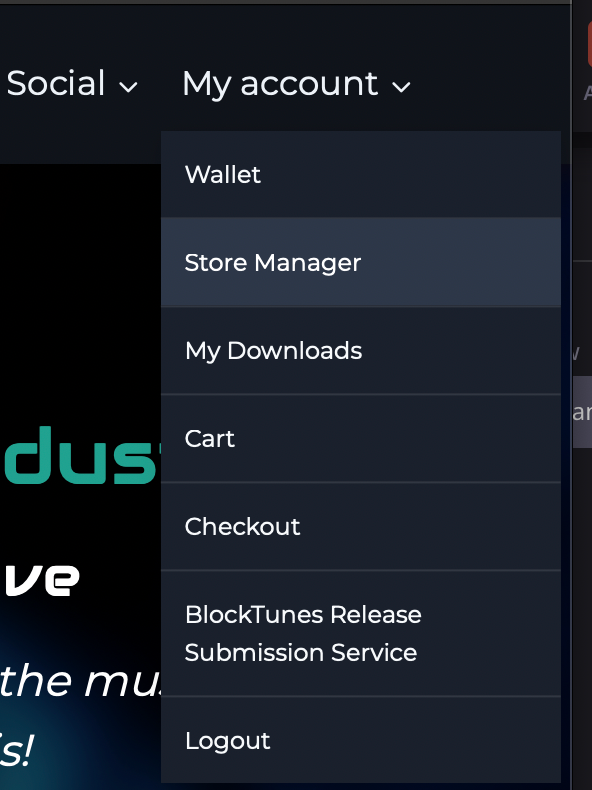 Then once you are in your Store Manager, you will go to your Products tab and hover over it to see the Add New option...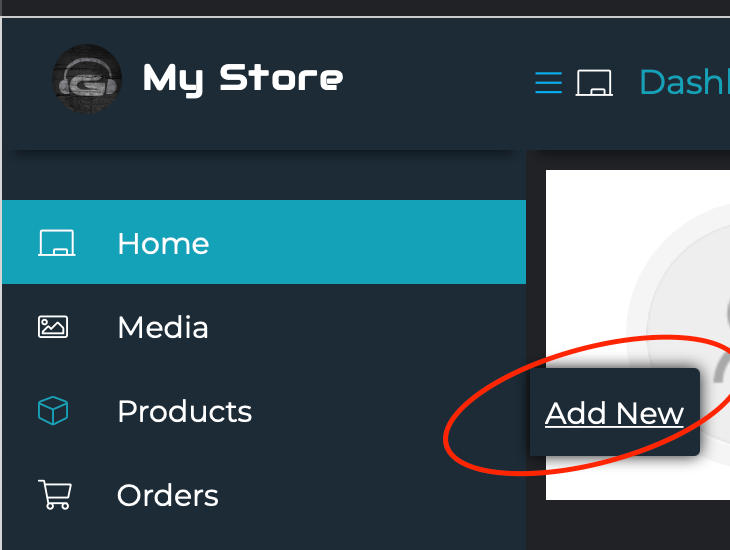 Once you hit the Add New option, you will be taken to the product creation page which will look like this... Check the numbered descriptions below.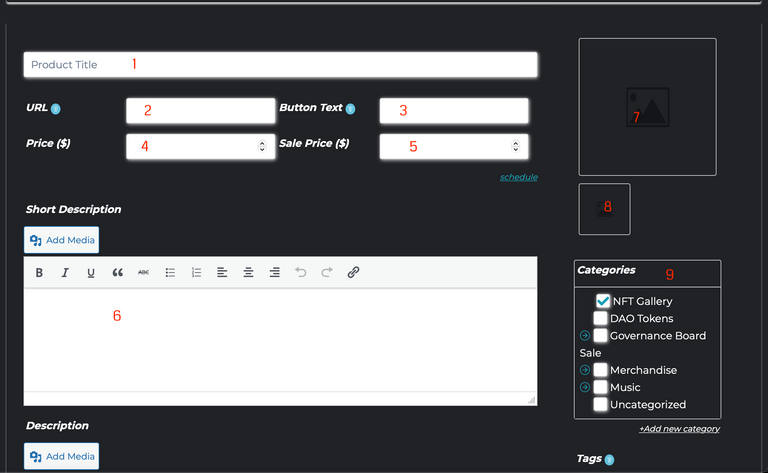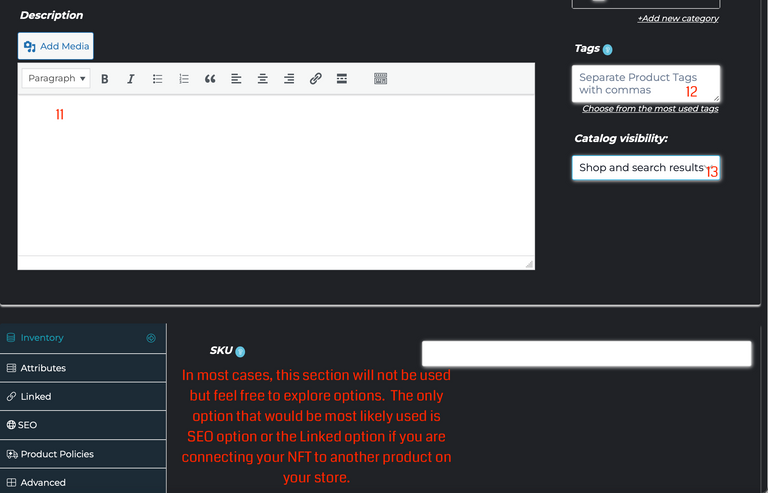 Product Title- This one should be pretty obvious. Here is where you will enter the main title of your external NFT

URL - This is the website address for your NFT on the marketplace where it is located. This is the address that your customer will be sent to to purchase that NFT on the given blockchain market.

Button Text - This is the text you will enter to direct your customers. For example: 'View on Hivelist NFTs'.

Regular Price - This is the regular price you have set in dollars for your NFT. If you don't want to show the price here in dollars, you can leave blank.

Sale Price - This is if you are trying to advertise your NFT for sale. You will price this is dollars. Leave blank if there is no sale price.

Short Description - This is the description that will show right below the title and the button for the product. This can be a shorter summary of the piece or can be used for the entire description

Product Image uploader - This is where you will select or upload your product image.

Additional Product Image - This is an uploader for a product image gallery if you have different images that go with your NFT.

Categories - You will want to make sure to select NFT Gallery for the category.

Got skipped... My bad...

Main Description - This is the place where you will enter your long description. This will be displayed below the main section of the product display but can be used for a full on description where the short description might not be a big enough space.

Tags - This is where you can enter descriptors like genre, style, blockchain it is minted, etc.

Catalog Visibility - You will want to choose 'Shop and Search results' for it to show properly in the store.
Once you finish filling in all the information you will hit the publish button at the bottom right, sorry not displayed...
After your product is published to your BlockTunes store, your product will look something like this...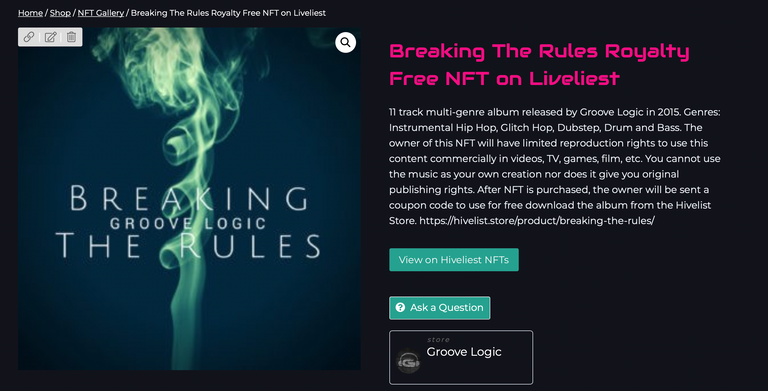 If the artist needs to make an edit or wants to remove the item from their store, they will hit the one of the options on the top left part of the product image.
In Conclusion
The NFT Galleries are a great way to be able to bring together all of your NFTs into one place to showcase them all to your audience! If they want to purchase one of the items, they will be sent to the proper blockchains and marketplaces!
BlockTunes does not make any revenue off of these purchases. These are subject to commissions from the marketplaces that they are minted on.
Hope this helps gets artists pointed in the right direction!
Happy posting!

Be Cool, Be Real, and always Abide!
Get started playing Splinterlands today!
https://splinterlands.com?ref=thelogicaldude
Join Hive by going to:
https://signup.hive.io/
Want to shop using crypto, or even start your own online store? Check out the Hivelist Store
If you like what I am doing, please consider voting for my Hive Engine witness with your staked WORKERBEE!
https://he-voter.vercel.app/thelogicaldude
Or at
https://tribaldex.com/witnesses
https://thelogicaldude.com - The Dude's main site
https://hivelist.io - Classifieds, NFTs, DEFI Pool, Online Retail
https://HiveHustlers.com - Community for Entrepreneurs and All Around Hustlers
https://coin-logic.com - Live crypto market data, news, and research
https://blocktunes.net - Music NFTs, DAO, Downloads, and more
https://groovelogic.audio - DJ/Producer/Sound Engineer music and services
https://weedcash.org - The Highest Form of Social Media
View my channel on 3speak.tv! Video platfrom for a free speech society!
https://3speak.tv/user/thelogicaldude
But if you must... here is the YouTube channel link:
https://www.youtube.com/channel/UCtGApfTp4ZzLHksDdImJ9JA
Pure Logic Podcast can be found on 3speak.tv and YouTube as well as the following podcasting platforms:
Apple Podcasts
Spotify
Anchor.fm
RadioPublic
Breaker
Google Podcasts