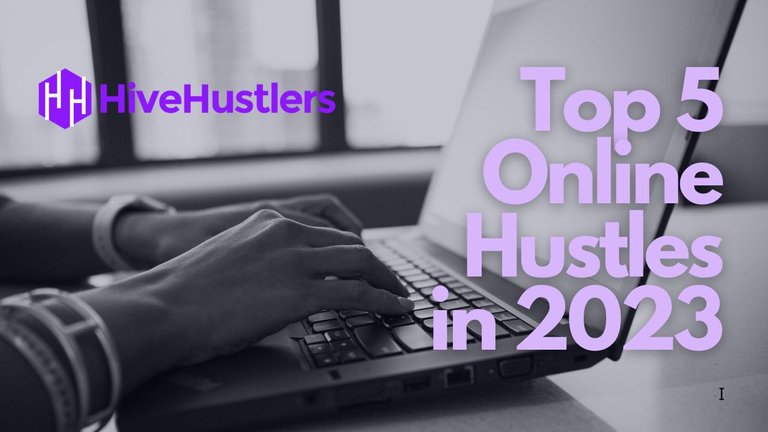 As we all know, the internet is a vast and ever-evolving place. And with each new year comes a new set of online hustles for us to try our hand at. Here are the top trending online hustles of 2023, as predicted by yours truly after a lot of research. Most of these are really nothing new, just goes to show that they are solid options to try for an online hustle!
Here at HiveHustlers, our community is all about supporting entrepreneurs to succeed, so hopefully, these suggestions can help get you started on your journey. So let's get right into the top hustles of 2023!
1. Influencer Marketing
Ah, influencer marketing. The hustle that has taken the world by storm and shows no signs of slowing down. In 2023, the key to success as an influencer is to have a niche and stick to it. Whether you're into beauty, fashion, or pets, there's a good chance you can turn your passion into a lucrative career by partnering with brands and promoting their products to your followers. Just make sure to keep it real and authentic, because the internet can smell inauthenticity from a mile away, especially if you are building your business here on Hive! The community is real quick to spot the fakes.
2. Dropshipping
Dropshipping is the ultimate hustle for anyone looking to make a passive income. All you have to do is find a supplier, set up a website, and start promoting your products. When an order comes in, you simply forward it to your supplier and let them handle the rest. No inventory, no shipping, no hassle. Just sit back and let the money roll in. In some cases, you don't even need to start your own website. You can use marketplaces like Hivelist and their multivendor retail store to get your business off the ground. Other options would be to use markets like eBay, Etsy, and Facebook marketplace.
3. Online Tutoring
Since the pandemic, parents learned the value of homeschooling, online tutoring is more in demand than ever. If you're an expert in a particular subject, consider offering your services to students in need. You can teach via video conferencing platforms like Zoom or any other platform that works for you. The best part is that you can set your own rates and schedule, making it a flexible and potentially lucrative hustle.
4. Freelance Writing
If you have a way with words, then freelance writing might be the perfect online hustle for you. Whether you're into creative writing, technical writing, or anything in between, there's a good chance you can find work as a freelancer. Just be prepared to put in the time and effort to build up your portfolio and showcase your skills. You could start your blogging career here on the Hive blockchain and start earning crypto immediately. This can be a great way to build your confidence and get some community feedback to help you improve your writing skills and make you more valuable.
5. Affiliate Marketing
Last but not least, affiliate marketing is a tried-and-true online hustle that is still going strong in 2023. All you have to do is find a product or service you believe in, sign up for an affiliate program, and start promoting it to your followers. If someone makes a purchase through your unique referral link, you'll earn a commission. It's as simple as that. There are many different ways you can promote the products, only your imagination is your limitation!
So there you have it, the top trending online hustles of 2023. Whether you're looking to make a little extra cash on the side or turn your passion into a full-time career, there's an online hustle out there for everyone.
Keep calm and Hustle on!

Main info site: https://hivehustlers.com
Hive Blockchain community: https://hivehustlers.io
HiveHustlers Community on Peakd: https://peakd.com/c/hive-183630/created
Check out our multi-token DEFI ecomomy: https://hivehustlers.com/token-economy
Like what we do?
You can delegate Hive Power to @hivehustlers and earn $COM tokens that when staked, earn daily drips from our various community token rewards pools! Staking $COM will earn you tokens like $LEO, $CTP, $LIST, $WEED, $PIZZA, and $ONEUP!
Please also consider a recurring Hive or HBD tip! It goes along way to help build a better community.
Any GIFs used in this post are from the Peakd GIF library. Header image made in Canva.