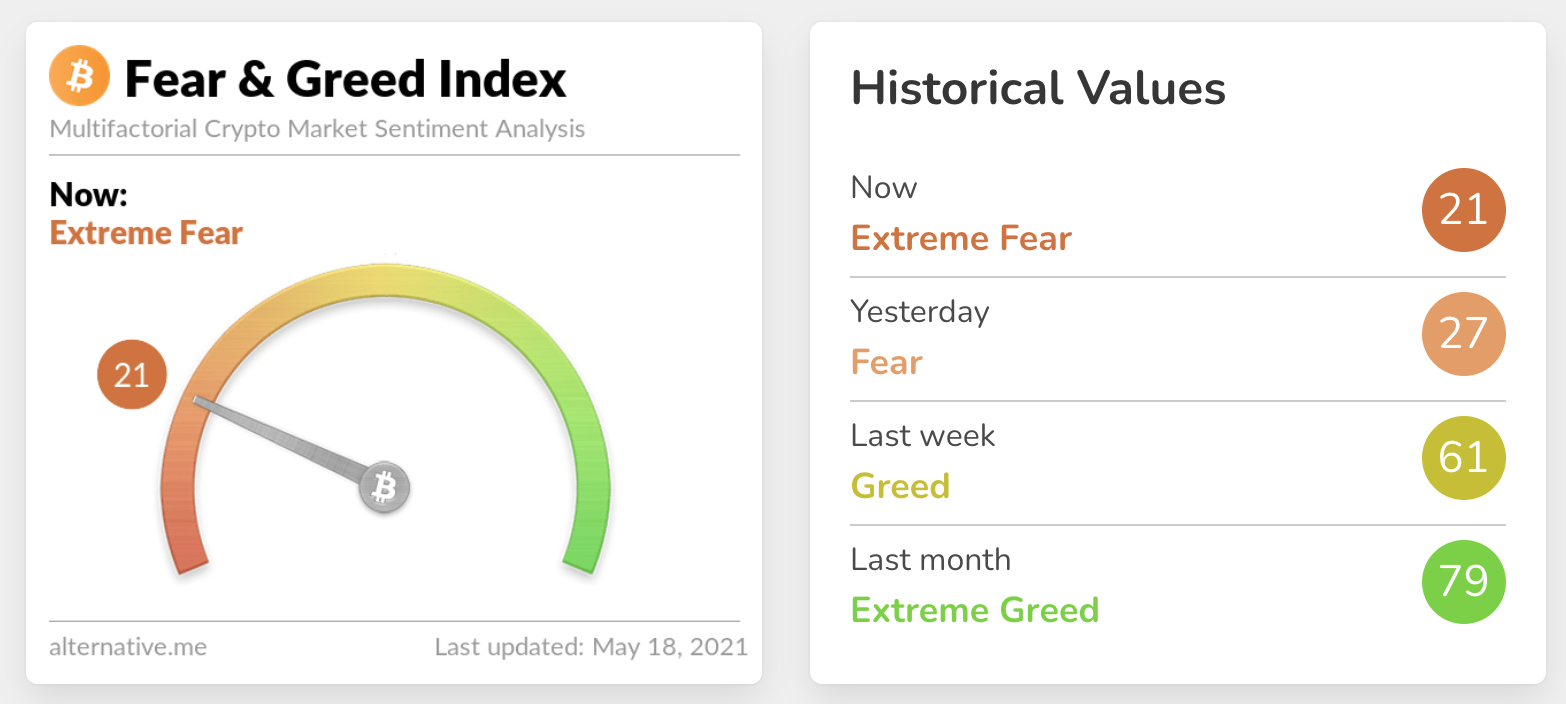 As ole Warren B says, 'Be fearful when others are greedy, and be greedy when others are fearful." That says it pretty plain and simple. The crypto interwebs have been going insane the last few days, giving way too much power to one person, which honestly I think is stupid.
If you look at it in a different way, everything we are seeing is the signs of the biggest buying opportunity of this bull cycle.
As you see, the Fear and Greed Index from https://alternative.me/crypto/fear-and-greed-index/ shows that the sentiment in the markets is now in 'Extreme Fear'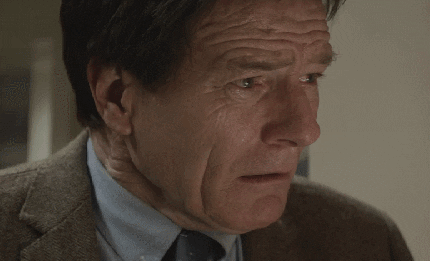 Everyone and their brother is saying that it is done, we are going into a bear market! Well... if you calm down, turn off the news, and look at the charts, you will see the world is not coming to an end... well at least the crypto world, lol.
Well the smart money are the ones that are absorbing all of this short term pleb money. I know I am one of them, lol. I am loving these sale prices to stack for the long term bags. Now, my leveraged long is still struggling, but now my average buy in is now just above 48k and I am out at 41k so hopefully we hold these levels and head to the north side.
But let's take a look at the charts and see what they say...I showed this in my post yesterday, but let's look at it again and in a different way...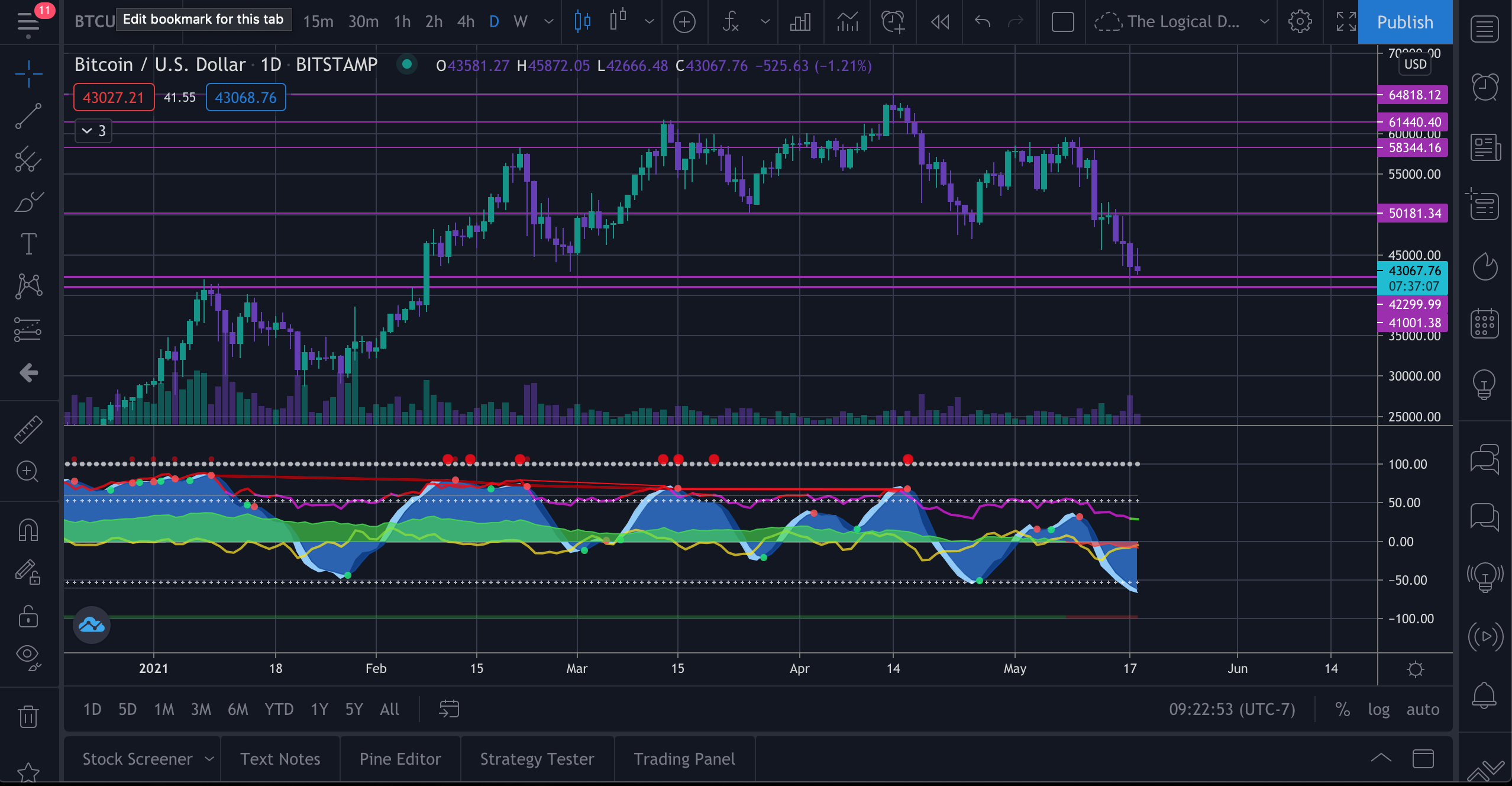 As you see from the price action, we have dropped to and so far holding the levels that were previously acting as resistance back in January... I talked about this yesterday, and guess what... STILL HASN'T CHANGED!!!
We are still holding that line of support and even have spent most of the last 12 hours at or above the 43k level.
Now we can drop to around the 39k level and still be in good shape for the bull market, but if we break that... then we may be in some trouble... But I am thinking positive!
If you look at the market cipher indicator, you can see that the momentum wave has dropped to levels not seen in quite a long time. The money flow indicator is in the red area meaning money has been flowing out of the asset, but at the same time, the RSI has is now in the oversold territory.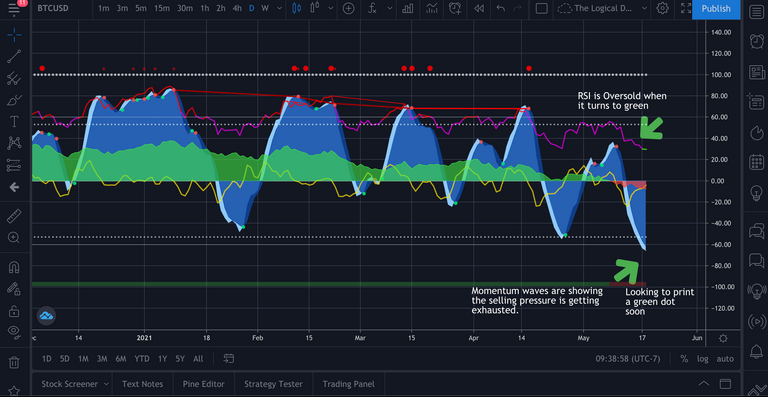 So I am sitting back and buying the f-ing dip! Michael Saylor sure is with is latest purchase of about $15m worth of BTC at like $43k average price.
So are you a short term meme pleb looking for a quick buck or a long term hard knuckled investor and here for the true future and revolution? Even most that trade this market are still long term holders, but seems that the new kids coming from Reddit are what is driving this panic selling action. So take the signs for what they are, and know that we are still in good shape for this run... So I will take the plebs' money and run, lol!
Be Cool, Be Real, and always Abide!
If you like what I am doing, please consider voting for my Hive Engine witness with your staked WORKERBEE!
https://he-voter.vercel.app/thelogicaldude
Or at
https://tribaldex.com/witnesses
https://thelogicaldude.com
https://hivelist.io
https://HiveHustlers.com
https://coin-logic.com
https://groovelogic.audio
https://weedcash.org