Hello 👋🤩 everyone welcome to another actifit report.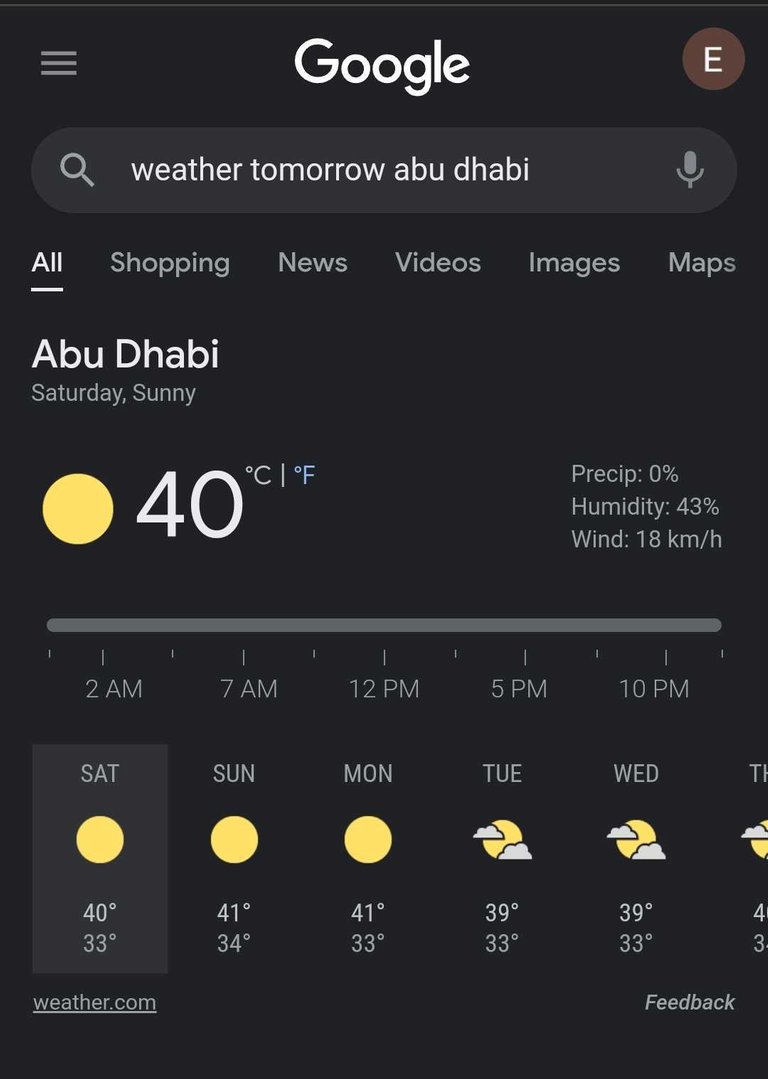 Source https://www.google.com/search?q=weather+tomorrow+abu+dhabi&oq=wea&aqs=chrome.3.69i57j0i131i433i512j0i131i433i457i512j0i402j0i131i433i512l4j0i131i433.2864j0j4&client=ms-android-xiaomi-rvo3&sourceid=chrome-mobile&ie=UTF-8
My god no wonder I'm feeling so tired these few days look at that it's 40°C outside I always knew it's hot 🔥 and I kinda got used to it but this is higher than previous I guess even night 🌃 time is hot here was sweating so much when I arrive home.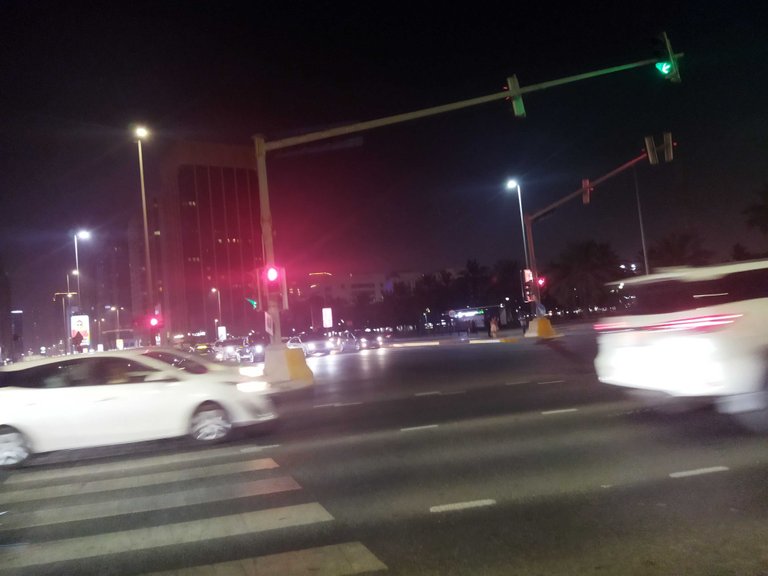 I guess I need to stop drinking coffee ☕ and any sweet drinks 🥃 until the heat 🔥 goes down a bit. I want to write more and make my actifit post a quality content but these few days is just exhausting must be the heat then some friends are getting sick as well I guess I need to slow down a bit wanted to go to the gym but my calf cramps too much walking 🚶at work as well.
I'm going to elevate my legs while I sleep tonight I will feel better tomorrow.
Apologize for the complaints lol 😜 not like me but yeah the heat 🔥 is exhausting.
I guess that's all for yesterday's report thank you for reading everyone.
🥅🥅🥅🥅🥅🥅🥅🥅🥅🥅🥅🥅🥅🥅🥅🥅
🎯My own Target / Goals in hive blockchain.
🎯🎇🎆🎇🎆🎇🎆🎇🎆🎇🎆🎇🎆🎇🎆
#️⃣1️⃣. Delegate @actifit 25HP DONE ✅
✅✅✅✅✅✅✅✅✅✅✅✅✅✅✅✅
☮️☮️☮️☮️☮️☮️☮️☮️☮️☮️☮️☮️☮️☮️☮️☮️
#️⃣2️⃣. Delegated @youarealive 25HP DONE ✅
✅✅✅✅✅✅✅✅✅✅✅✅✅✅✅✅
☮️☮️☮️☮️☮️☮️☮️☮️☮️☮️☮️☮️☮️☮️☮️☮️
#️⃣3️⃣. Power up until I get 100HP on my account caelum1infernum. Currently 84HP
🎯🤠 Please let me know if my tagging you is bothering you I will take the tags out and just put the names instead thank you.
136.67 Alive Token Staked!(6/7/2022)
200.01 Alive Token Staked (15/7/2022)
336.39 Alive Token Staked (24/7/2022)
420.44 Alive Token Staked (31/7/2022)
452.51 Alive Token Staked (5/8/2022)
509.95 Alive Token Staked (6/8/2022)
🎯Next target 1000 Alive Token!🎯
Take care ❤️ keep safe 💟 stay healthy 💖drink more water 💦 and peace ☮️ be upon you.
Follow me on Instagram ⏹️
shorturl.at/FIK38
⏹️⏹️⏹️⏹️⏹️⏹️⏹️⏹️⏹️⏹️⏹️⏹️⏹️⏹️⏹️⏹️
Add me on Facebook 🔵
shorturl.at/emps4
🔵🔵🔵🔵🔵🔵🔵🔵🔵🔵🔵🔵🔵🔵🔵🔵
Follow me on Twitter ♻️
shorturl.at/jLOV5
♻️♻️♻️♻️♻️♻️♻️♻️♻️♻️♻️♻️♻️♻️♻️♻️
Subscribe me on YouTube 🔴
shorturl.at/h2789
🔴🔴🔴🔴🔴🔴🔴🔴🔴🔴🔴🔴🔴🔴🔴🔴

This report was published via Actifit app (Android | iOS). Check out the original version here on actifit.io




05/08/2022

13889