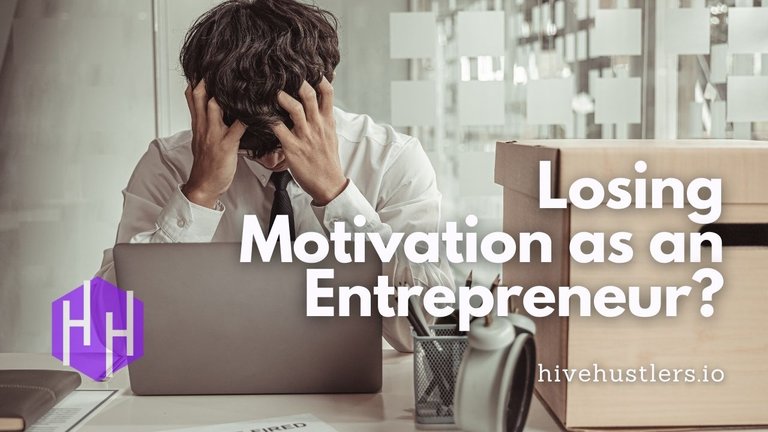 Starting a business is a big commitment and requires a lot of time, effort, and dedication. While it can be an exciting and fulfilling journey, it can also be challenging, and at times, stressful and draining. One of the biggest obstacles that entrepreneurs face is losing motivation. If you're feeling unmotivated, you're not alone, trust me, I am writing this as I deal with the issue in my own business. In this article, I'll share some tips and strategies to help you regain your drive and motivation, and keep pushing forward as an entrepreneur.
Get To the Source
The first step in regaining your motivation is to identify the source of your lack of drive. There can be many reasons why entrepreneurs lose motivation, including feeling overwhelmed by the workload, feeling discouraged due to a setback, or simply feeling burned out. Knowing what's causing your lack of motivation can help you address it more effectively.
Take some time to reflect on what might be causing your feelings of discouragement. Are there specific tasks or responsibilities that you're dreading? Are you feeling stressed about meeting deadlines or reaching your goals? Once you have a better understanding of what's causing your lack of motivation, you can start taking steps to address it.
Sometimes You Just Need A Break
One of the best things you can do for yourself when you're feeling unmotivated is to take a break. Stepping away from your business, even for a short period, can help you recharge your batteries and come back feeling refreshed and ready to tackle your work.
Take some time to do something you enjoy, like reading a book, going for a walk, or spending time with friends and family, or even just go and take a nap. Disconnecting from your work and focusing on something you love can help you reframe your thoughts and approach your business with renewed energy.
You Need A Mindset Reset
Your mindset plays a significant role in how you feel about your business. If you're feeling depressed and discouraged, try reframing your thoughts and focusing on the positive. Instead of dwelling on what's not working, make a list of your accomplishments and remind yourself of why you started your business in the first place. This is something I have to do often. When I am feeling down, there is generally always a comment that comes through from a community member that helps to pick up my spirits and know that I am doing all of this for a reason.
Focus on the progress you've made and the lessons you've learned. When something doesn't go right, figure out what it was and make adjustments. Remember that every successful entrepreneur has faced challenges along the way. By changing your perspective, you can change the way you feel about your business which is a big motivation boost.
Setting Realistic Goals For Your Business
Setting achievable goals can help you stay motivated and focused. When setting goals, make sure they're specific, measurable, and realistic. Breaking down larger goals into smaller, more manageable tasks can help you stay focused and motivated. You have to be real with yourself and take stock of your strengths and weaknesses and use that to measure and knock out the most attainable goals first. This will help keep you motivated because you feel like you are actually getting stuff done.
Keep track of your progress and celebrate when you reach milestones. By setting achievable goals and tracking your progress, you'll be able to see how far you've come and stay motivated to keep pushing forward. Crossing tasks off your list and kicking the ball through your preverbal goal posts will keep you motivated.
Pay Attention Who You Surround Yourself With
Having a strong support system is crucial for entrepreneurs. Surround yourself with people who believe in you and your business. Whether it's friends, family, business associates, or a mentor, having people who you can turn to for encouragement and support can help you stay motivated and on track. These people will be your biggest fans, and your biggest critics. Use them for not only giving you the warm and fuzzies, but also make sure you are taking any critical feedback to mind and don't be afraid to make adjustments based on it. If people don't give you critical feedback, they aren't being very supportive, you need people to tell you how it is.
In addition to having a support system, consider joining a business community or a peer group. Connecting with other entrepreneurs can help you gain new perspectives, learn from others' experiences, and stay motivated. This gives you something to look at as a frame of reference for your own business as well. Seeing what others are doing and putting your own twist on it.
Always Look For Inspiration
One of the best ways to stay motivated is to stay inspired. Read books and articles about successful entrepreneurs, attend conferences and events, and network with other business owners. Learning from others and seeing what's possible can help you stay motivated and focused on your goals.
Stay up-to-date with the latest industry trends and advancements. By continuously educating yourself and staying inspired, you'll be able to bring fresh ideas and perspectives to your business, and keep pushing forward, even when the things get tough.
Final Thoughts
Losing motivation as an entrepreneur is a common challenge, but it doesn't have to hold you back. By identifying the source of your lack of motivation, taking a break, reframing your mindset, setting realistic goals, surrounding yourself with supportive people, and staying inspired, you can regain your drive and keep pushing forward.
Remember, starting a business is a journey, not a destination. Embrace the ups and downs and stay focused on your long-term vision. With persistence and dedication, you can achieve your goals and make your entrepreneurial dreams a reality. Things will change and adjust along the way, and as an entrepreneur, you need to be flexible and be able to move with the current.
I hope these tips help you stay motivated and focused as an entrepreneur. Don't give up on your dreams and never stop learning and growing. Stay positive, stay inspired, and keep pushing forward, don't worry, I am telling myself these things as I write this, so you are not alone.
Keep calm and Hustle on!

Main info site: https://hivehustlers.com
Hive Blockchain community: https://hivehustlers.io
Like what we do?
You can delegate Hive Power to @hivehustlers and earn $COM tokens that when staked, earn daily drips from our various community token rewards pools! Staking $COM will earn you a portion of our daily SWAP.HIVE payout pool!
Please also consider a recurring Hive or HBD tip! It goes along way to help build a better community.
Any GIFs used in this post are from the Peakd GIF library. Header images are made in Canva.