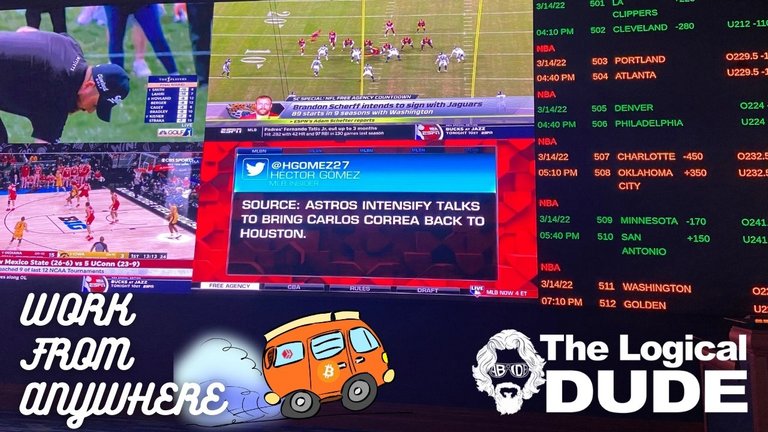 Nobody is promised tomorrow, so do what you love today! Get out and adventure and find your thrills in life! If you are smart about it, you will find ways to earn on your travels to continue to fund your life!
Being a digital nomad and van lifer, you have the freedom to move around anywhere and everywhere you want to go! For some reason, allot of society is forced into this comfort creature mentality that keeps us in the same place or area for most of our lives. We do this for the image of safety and security. As this might be the case, you are also limiting yourself and your life!
Being a digital nomad, you either work for yourself, or you have a job that allows you to work from anywhere. This allows you to have the freedom to find your own environments!
Casinos Are a Nomadic Oasis
For me, I love finding casinos, mainly the one's on Indian reservations here in the US. For a van lifer, they are basically an oasis of sorts. You get access to clean bathrooms, and a parking lot that you can basically live in for as long as you want, if you don't abuse it and not looking like you are setting up camp, which many offer RV spots, but require you to either pay or play and put a certain amount of points on your player's club cards.
For me, living in a converted passenger van, I have no problem with being stealthy and can park and sleep in just about any casino parking lot, undetected, for really as long as I want.
Most offer things like free sodas and coffee no matter if you are playing or not, some offer free alcohol if you are playing, some do not. Another huge benefit in many cases if I can find areas to hang out and work, like in the sports booking area. You have free business class internet that you can log into, which makes working a breeze, just make sure you are rocking a VPN.
For example, I just uploaded videos to YouTube and @threespeak as well as writing this post right now on their free internet, while drinking free coffee, and watching 4 massive screens while learning sports betting... Which I have not placed a single bet...Period, lol. Nobody asks, so I don't tell, lol.
Most casinos have really good restaurants as well, so I will at least eat a meal or two in there to say I am supporting them in one way or the other, lol.
Working From Anywhere With Internet Connection
It doesn't have to just be a casino, or hotel... You can work in really any remote place you want as long as you have an internet connection. Most mobile plans come with data, and most also come with a limited hotspot plan as well. Using a hotspot can give you the data you need on the go to be able to bang out a good article, or do some light data work.
Video uploading is not very conducive to mobile hotspot data as it will eat it up fast. That is where places like casinos, libraries, or even restaurants come into play.
Like what I do is I will use my mobile hotspot to write articles, and even do charting and research, but I try to avoid watching or uploading videos. I use the data to make videos, say for @coinlogic.online and then wait till I am on a free connection somewhere to get the video uploaded. This saves me from having to have an extra expensive hotspot connection.
Campgounds Also Off Wifi
Many campgrounds, at least across the US, have free wifi hotspots in most cases. These days you pretty much have to. Campgrounds can offer allot of amenities and benefits as well, for usually a really good price. This gives you the ability to sit and hang out in nature while you work and earn to continue your travels!
Hotels and AirBNB
These are pretty much a given. All hotels offer free wifi connections that you can use to work, and many have business centers with printers and such as well. AirBnB's you are subject to what the host offers, most will at least have wifi you can use. This can give you the ability to travel anywhere in the world and connect, get your work done, then spend the rest of your day vacationing... Just saying... it's a pretty cool life.
In Conclusion
Your only limitations are the ones you set for yourself. If you don't have the ability to work remotely, but you have that adventurous itch, then find a new line of work! There are all kinds of opportunities that allow you to work from anywhere. Crypto offers many different opportunities and most can be done from anywhere on the globe with an internet connection!
Always remember to be safe while working and browsing abroad by using a VPN, or virtual private network. This will mask your connection and protect your data from any prying eyes in the area trying to take advantage of travelers that aren't as savvy and just using the open internet connections.
Make sure you get a mobile plan that includes some hotspot data, so you can turn your phone into a mobile wifi device that you can connect to your computer. Do most of your sensitive, low data work there, then use the public stuff for uploading videos and that sort of thing.
Anyway, those are my little traveling, digital nomad, van lifer tips for the day!
Again, we are never promised tomorrow, so go live for today!
Be Cool, Be Real, and always Abide!
Get started playing Splinterlands today!
https://splinterlands.com?ref=thelogicaldude
Join Hive by going to:
https://signup.hive.io/
Want to shop using crypto, or even start your own online store? Check out the Hivelist Store
If you like what I am doing, please consider voting for my Hive Engine witness with your staked WORKERBEE!
https://he-voter.vercel.app/thelogicaldude
Or at
https://tribaldex.com/witnesses
https://thelogicaldude.com - The Dude's main site
https://hivelist.io - Classifieds, NFTs, DEFI Pool, Online Retail
https://HiveHustlers.com - Community for Entrepreneurs and All Around Hustlers
https://coin-logic.com - Live crypto market data, news, and research
https://blocktunes.net - Music NFTs, DAO, Downloads, and more
https://groovelogic.audio - DJ/Producer/Sound Engineer music and services
https://weedcash.org - The Highest Form of Social Media
View my channel on 3speak.tv! Video platfrom for a free speech society!
https://3speak.tv/user/thelogicaldude
But if you must... here is the YouTube channel link:
https://www.youtube.com/channel/UCtGApfTp4ZzLHksDdImJ9JA
Pure Logic Podcast can be found on 3speak.tv and YouTube as well as the following podcasting platforms:
Apple Podcasts
Spotify
Anchor.fm
RadioPublic
Breaker
Google Podcasts