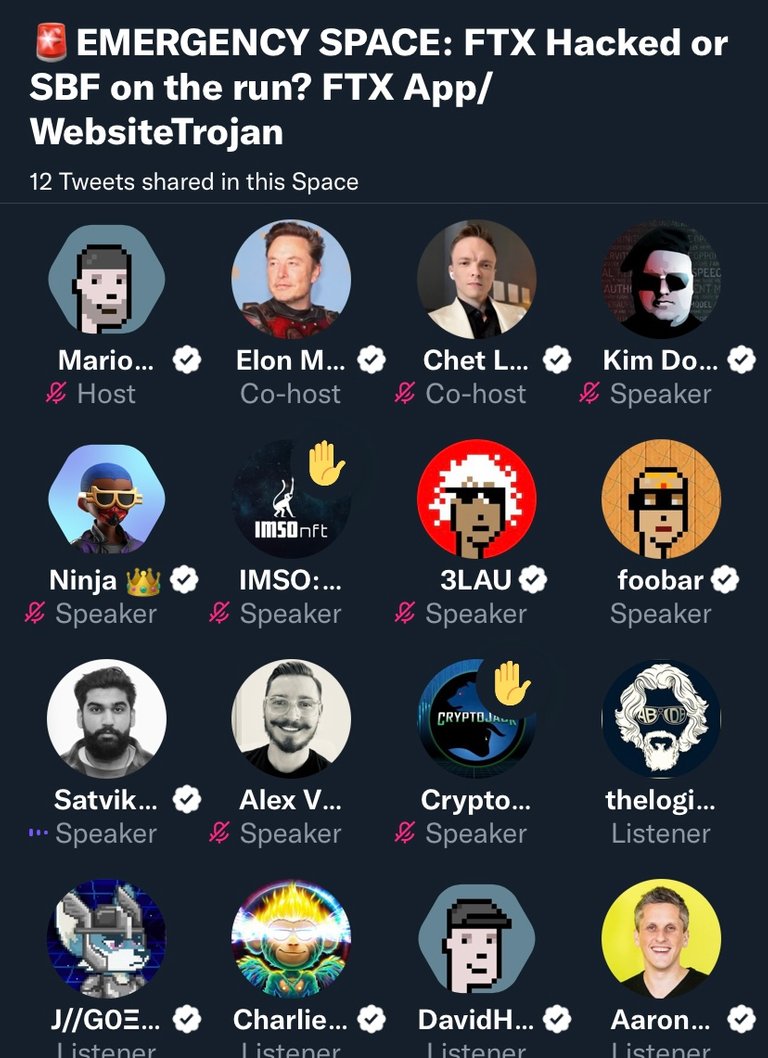 Last night as I was sitting in a hospital parking lot because my ex had chest pains at my niece's birthday party, yeah fun night, but while I was waiting I was listening in to a big crypto Twitter Spaces discussing the FTX fallout and how incredibly fucked the industry is.
This spaces has some crypto celeb attendees already like Kim Dot Com, big project leads, many of the exchanges and more. I even saw a wild @jeffjagoe in the crowd. As things we heating up and people were breaking news right and left, the man himself, Elon Musk asked to speak!
"DOGECOIN to the MOON" was how he came in! Lol. It was epic!
SBF Fired Off Elon's BS Meter
When asked what he thought of SBF, Elon said when he first met him, he had no idea who SBF was and that his bullshit meter was firing on all cylinders, lol. Remember, SBF tried to come into the the Twitter deal as an investor.
Elon's Crypto Endorsements
Elon first endorsed the ever wise thought of NOT YOUR KEYS NOT YOUR COINS. He highly recommended cold storage wallets. That was the first endorsement.
Then he went on to really only endorse 3 chains, Bitcoin, Ethereum, and of course DOGE.
He also doesn't think the industry is as screwed as we are thinking, but then continued to push cold storage, Bitcoin and Doge, lol.
Fun Ending To A Not So Fun Night
In light of the issues with my ex-wife, who is okay, well at least her chest is, the rest of her, a whole other story, lol. But I am a good dude and still the first one in line to help when needed.
Anyway, being on a call and the man himself coming in and dropping bombs then getting glitched out of the space, lol, was pretty awesome!
From that, he really seems genuinely interested in making positive changes. So maybe my opinion of him is starting ti come around a bit. Maybe he is seeing that the good side needs a leader too!
This was written on my mobile, so sorry for any typos, and Jeff, sorry for the multiple mentions… Edits and all, lol.
Until next time everyone…
Be Cool, Be Real, and always Abide!
Support The Logical DAO
If you want to support the efforts of The Logical Dude and his projects that come out of The Logical Labs, you can support by purchasing a special NFT directly from the site using pHBD on Polygon! These funds are used to fuel the income engine in The Logical DAO
https://thelogicaldude.com/nfts
https://thelogicaldude.com/dao
The Logical Labs Projects
https://hivelist.io - Classifieds, NFTs, DEFI Pool, Online Retail
https://HiveHustlers.com - Community for Entrepreneurs and All Around Hustlers
https://coin-logic.com - Live crypto market data, news, and research
https://blocktunes.net - Music NFTs, DAO, Downloads, and more
https://groovelogic.audio - DJ/Producer/Sound Engineer music and services
https://weedcash.org - The Highest Form of Social Media
Video Channels
View my channel on 3speak.tv! Video platfrom for a free speech society!
https://3speak.tv/user/thelogicaldude
But if you must... here is the YouTube channel link:
https://www.youtube.com/channel/UCtGApfTp4ZzLHksDdImJ9JA
Other Ways To Support
If you like what I am doing, please consider voting for my Hive Engine witness with your staked WORKERBEE!
https://tribaldex.com/witnesses
Get started playing Splinterlands, the top blockchain game in the world, today!
https://splinterlands.com?ref=thelogicaldude