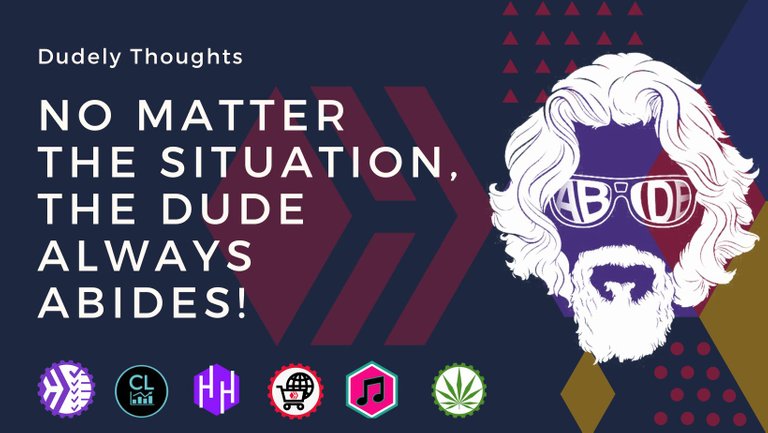 If you are a fan of the cult classic, The Big Lebowski, then you know 'The Dude Abides'. But what does this really mean? Well, in a nutshell, it means staying true to yourself.
This can mean different things for different people. But for this dude, it means that I am always going to be me, no matter what. What you see is what you get. I will always live my way and do what I want to do.
Now, I don't mean just going out and being a complete idiot, just because you want to. It's a good dude's job in society to be true to those around him as well. Do you know the ole golden rule? If you didn't learn that as a kid, let me teach it to you now... Do to others as you want them to do to you! Nobody wants to get treated like crap, so why would you treat others like crap? Just because someone may treat you like crap, does that give you the right to do the same? Or is it better to be a better example?
I am a dad, so this means I have 2 other humans that look at me as an example. Although I have not always been the best example, they will tell you I have always done my best, for better or for worse. Being a true dude is also learning from your mistakes and just trying to do better tomorrow. We all want our kids to abide by our rules, but hopefully, in most cases, it's for their protection and so they can learn to be better humans. At least that is how I raised my kids, and at 23 and 18, I will say I have done a pretty damn good job.
What the authorities and institutions want you to do is abide by their rules and laws, and threaten to punish you for doing so in a whole other kind of way. They are wanting to control every aspect of your life. This is not the type of abiding I like to do. So that is why if you don't abide by their so-called laws, they punish you with violence and extortion. They physically harm you, lock you up, and empty your wallet.
What society wants is for you to abide by their standards. At least in "western civilization", we are bombarded with some kind of marketing, pretty much every minute of the day. Trying to sell you some kind of product, service, or lifestyle. It's easy to fall into this trap because you want what is on the little screen. It's extremely easy to fall into this trap in the crypto space by chasing every little new and shiny thing that comes along. All they do is suck up your life, not to mention your money.
Is that kind of life really worth it? Abiding by institutions by paying their extortion fees, or like they call taxes, but being the dude I am, I call it what it really is... Extortion. The corporations and celebrities want you to try and look a certain way or act a certain way so that you can buy into their hype and their products or services. How many times have you bought something because you wanted to fit in? We all have done it. I know I have. But that is not the way to abide with yourself.
If you love falling into society's traps, then, by all means, live your life and do you, Boo! Go spend your money on all that corporate crap, I genuinely hope it brings you joy. That is what I tell my daughter at least every time I see a new Amazon order, lol.
I for one am done buying into the lies from institutions,'authorities', and so-called celebrities. I am going to live my life the way I want to live it. It's hard to do at times when you are under constant pressure from every direction. That is when you need to take some time for yourself, in some nature, and remember what is truly important, YOU and your mental and physical well-being, well and your family as well if you are a parent like I am.
The best thing we can do is to teach our kids to live their own life and to not get caught up in the rat race. Everyone finds their own place and becomes their own person. I just hope it is by their standards, and not society's!
Okay, I am done with the ramblings at this point. Hope you all found something in these random thoughts, lol. If you have followed me long enough, you know how it goes, lol.
Until next time my friends,
Be Cool, Be Real, and always Abide!
Support The Logical DAO
If you want to support the efforts of The Logical Dude and his projects that come out of The Logical Labs, you can support by purchasing a special NFT directly from the site using pHBD on Polygon! These funds are used to fuel the income engine in The Logical DAO
https://thelogicaldude.com/nfts
https://thelogicaldude.com/dao
The Logical Labs Projects
https://hivelist.io - Classifieds, NFTs, DEFI Pool, Online Retail
https://HiveHustlers.com - Community for Entrepreneurs and All Around Hustlers
https://coin-logic.com - Live crypto market data, news, and research
https://blocktunes.net - Music NFTs, DAO, Downloads, and more
https://groovelogic.audio - DJ/Producer/Sound Engineer music and services
https://weedcash.org - The Highest Form of Social Media
Video Channels
View my channel on 3speak.tv! Video platfrom for a free speech society!
https://3speak.tv/user/thelogicaldude
But if you must... here is the YouTube channel link:
https://www.youtube.com/channel/UCtGApfTp4ZzLHksDdImJ9JA
Other Ways To Support
If you like what I am doing, please consider voting for my Hive Engine witness with your staked WORKERBEE!
https://tribaldex.com/witnesses
Get started playing Splinterlands, the top blockchain game in the world, today!
https://splinterlands.com?ref=thelogicaldude