As I start my new journey into the world of Splinterlands and really try to improve my game so that I can too like many of the others, play2earn for a living, lol. Hey why not, lol. 40 is the new 20 right? Or so they say, lol. Well I am not 40 yet... few more months for that, lol.
But anyway, back to the task at hand. My goal is to get better and better every day so that I can at least work my way up to the Bronze II level every season for the 1st Quarter. I will also be happy if I finish in Bronze III for the chests, but I really want to build up to where I can make some DEC for winning some battles.
The only way to do this is to keep battling and seeing what works. So I am going to be playing 10 battles a day in the mornings before I go into the gym to get my day started. You will start to see 2 daily logs from me, one will be Splinterlands, and the other will be my Actifit post, because I am challenging myself to some good health for 2022 as well.
Well I have started finding some strategies that work at time and that don't work at times. I am still struggling with the lower mana cap battles, but I will figure out the magic mix at some point.
My day started off pretty rough and actually ended with a losing record going 3-7...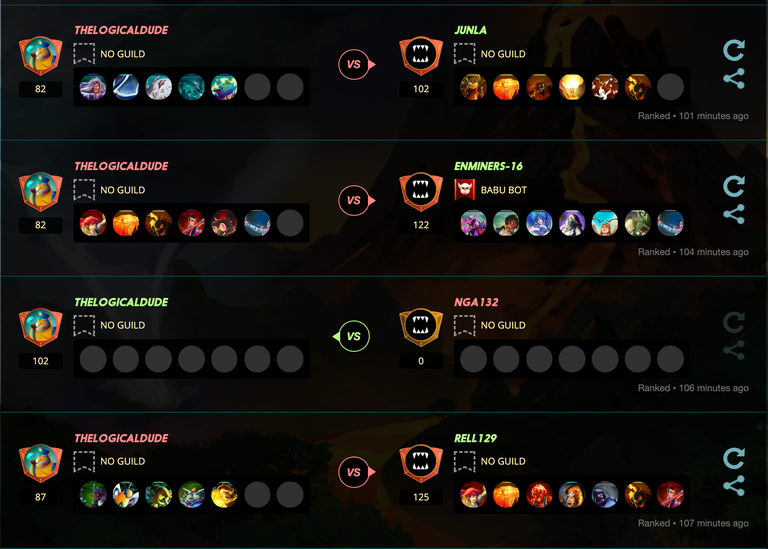 The morning started off with a lose. Always stings a little... Then the next was surrendered battle that went my way followed by a pretty heavy loss that took me back into the Novice level. Then another loss... This was right after I had gotten up this morning and was waiting on the rain to break so I could take the dog out. I then went and got coffee and drove to the gym where I also smoked a nice morning joint on the way.
Once I got to the gym, I opened the computer and got back in the game...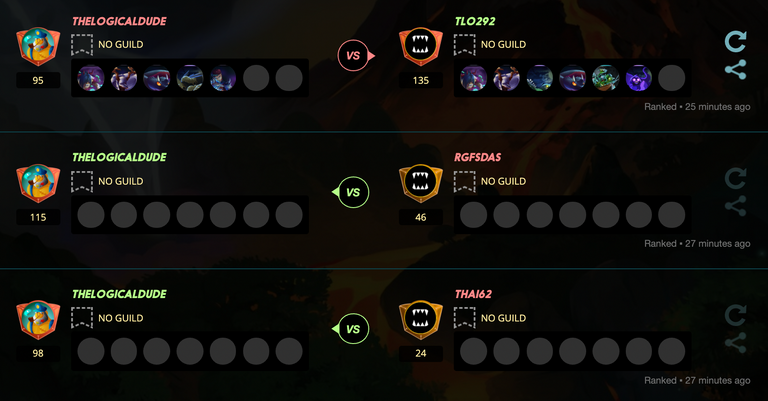 couple of surrendered battles got be back to Bronze III then a lost battle pushed me right back down... It was a struggle this morning to say the least, lol. But it's all apart of learning the game.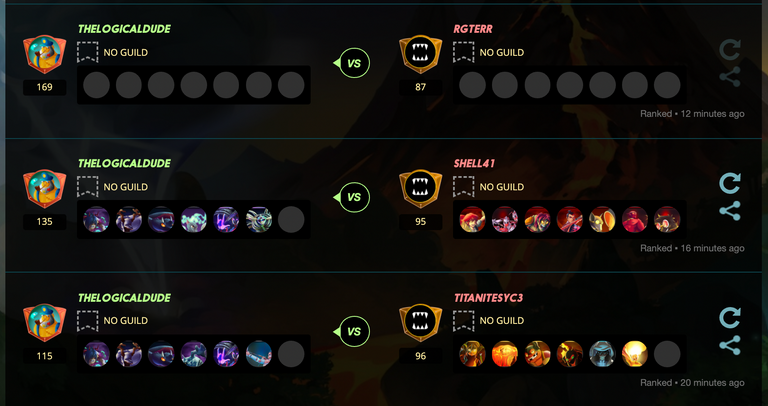 But then I got the sweet taste of victory by winning a couple of battles and getting another surrendered battle that kept me up in the Bronze III rankings a bit more.
And then finished it up with a 1-3 streak that ended up my morning Splinterlands gaming time...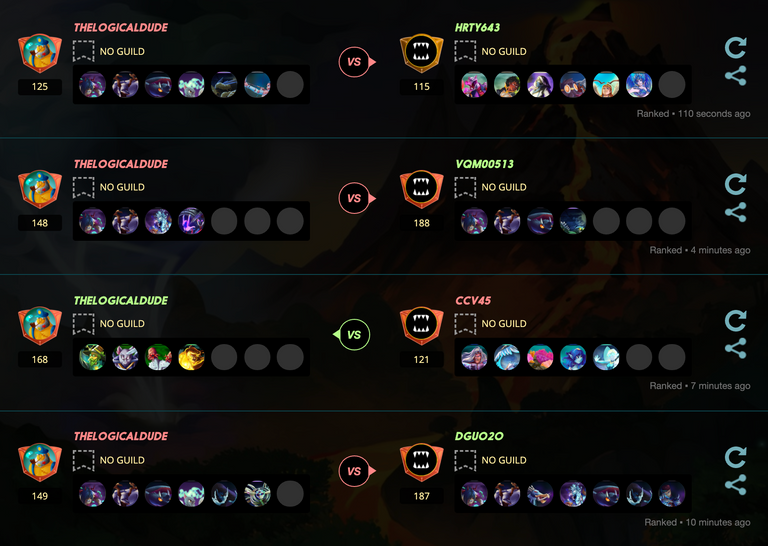 It is what it is I suppose, can't win them all, but it's nice to at least win a few, lol. I keep hearing about this spell book from @jongolson and might need to look into it...
Anyway, now it's time to get in the gym for some Dude time and onward to the rest of the day! It's Monday so that means Coin Logic TV Monday Market update as well as doing some work for @hivelist. I also have some music work to do for @groove-logic and the @blocktunes site later on in the evening and wrapping up the day with an Actifit post!
I am challenging myself in 2022 to keep to a working schedule because to fulfill my main goal of becoming financially free through crypto, you have to show up every day and keep disciplined! But how can you not love doing this as your daily grind! LOL!
Have a great Monday everyone!
Be Cool, Be Real, and always Abide!
If you like what I am doing, please consider voting for my Hive Engine witness with your staked WORKERBEE!
https://he-voter.vercel.app/thelogicaldude
Or at
https://tribaldex.com/witnesses
https://thelogicaldude.com
https://hivelist.io
https://HiveHustlers.com
https://coin-logic.com
https://blocktunes.net
https://groovelogic.audio
https://weedcash.org
View my channel on 3speak.tv! Video platfrom for a free speech society!
https://3speak.tv/user/thelogicaldude
But if you must... here is the YouTube channel link:
https://www.youtube.com/channel/UCtGApfTp4ZzLHksDdImJ9JA
Pure Logic Podcast can be found on 3speak.tv and YouTube as well as the following podcasting platforms:
Spotify
Anchor.fm
RadioPublic
Breaker
Google Podcasts
Join Hive by going to:
https://hiveonboard.com?ref=thelogicaldude